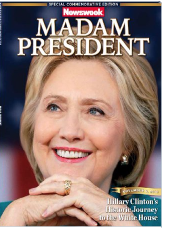 Were you able to get one of the special edition "Madam President" Newsweek issues?
That's right, Newsweek printed and delivered newspapers featuring Hillary Clinton as president elect.
News-based Approach
"Like everybody else, we got it wrong," said the CEO in charge of this mishap.
Indeed, the media did get it wrong. According to the media:
1) Donald Trump was 'supposed to' be only second best
2) The stock market 'was supposed' to sell off if Trump wins
This is the second time in 2016 that media and market pundits got blind sighted and fooled by a big event.
In June it was the Brexit vote, which 1) went different than expected 2) the stock market rallied instead of crashing like it was 'supposed to.'
If you enjoy quality, hand-crafted research, >> Sign up for the FREE iSPYETF Newsletter
The news-based approach requires two accurate guesses:
1) How the vote (or any event) will go
2) How the market will react to a certain outcome
As the above two examples show, the market rarely follows the expected path.
Indicator-based Approach
The indicator-based approach has proven to be much more accurate than relying on news. The last free S&P 500 Forecast pointed out a number of sentiment extremes and stated that:
"The best opportunities are born in times of panic. The more panic, the better the opportunity. It's risky to short such a market, and much more promising to look for a low-risk buying opportunity."
Stock futures suffered a brief panic selloff on Tuesday night (S&P 500 futures were down as much as 120 points), but quickly recovered.
This was in line with this observation shared in the November 6 Profit Radar Report:
"The VIX is stretched to the up side, with various bullish sentiment extremes and bearish seasonality. Excessive fear shown going into an event causing uncertainty (election) usually results in a quick retreat of fear once results are in and digested."
The VIX has lost over 50% in the past few days.
Barron's rates iSPYETF as "trader with a good track record" and Investor's Bussines Daily says "When Simon says, the market listens." Find out why Barron's and IBD endorse Simon Maierhofer's Profit Radar Report.
It's hard to believe that the S&P 500 cash index (unlike the S&P 500 futures) remainded above support identified last week and reacted immediately to the oversold condition and bullish divergences.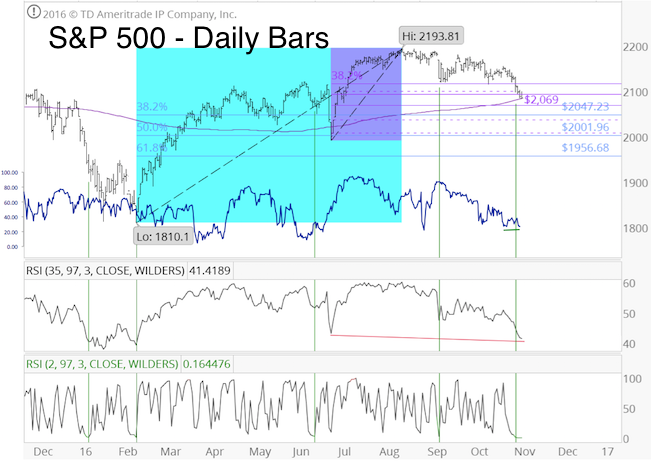 Back to Basics
With election uncertainty out of the way, we can refocus on the basics:
Short-term, the S&P 500 is butting against triple resistance while overbought. In addition, the days following the election tend to show some weakness.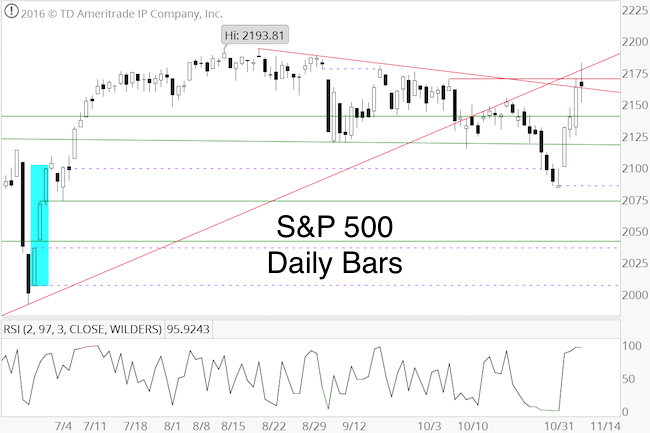 Longer-term, there are a number of bullish forces which should push stocks through resistance.
The correction we expected last month reached our down side target (reason for correction and down side targets are shown here).

The tailwind of two breadth thrust in 2016 bodes well for stocks (detailed breadth thrust analysis with implications is

available here

).

S&P 500 seasonality is bullish for the remainder of 2016

VIX seasonality is bearish for the coming weeks. XIV is up 8% since we last recommended it (after closing a 14% XIV gain in September).

Here is why we like the XIV trade

.
The Profit Radar Reports up side target may be surprising to many, but it is strictly indicator based. At this point, only one ingredient is missing to unlock higher price targets.
Up side targets, the missing ingredient, and continuous indicator-based S&P 500 analysis are available via the Profit Radar Report.
Simon Maierhofer is the founder of iSPYETF and the publisher of the Profit Radar Report. Barron's rated iSPYETF as a "trader with a good track record" (click here for Barron's profile of the Profit Radar Report). The Profit Radar Report presents complex market analysis (S&P 500, Dow Jones, gold, silver, euro and bonds) in an easy format. Technical analysis, sentiment indicators, seasonal patterns and common sense are all wrapped up into two or more easy-to-read weekly updates. All Profit Radar Report recommendations resulted in a 59.51% net gain in 2013, 17.59% in 2014, and 24.52% in 2015.
Follow Simon on Twitter @ iSPYETF or sign up for the FREE iSPYETF Newsletter to get actionable ETF trade ideas delivered for free.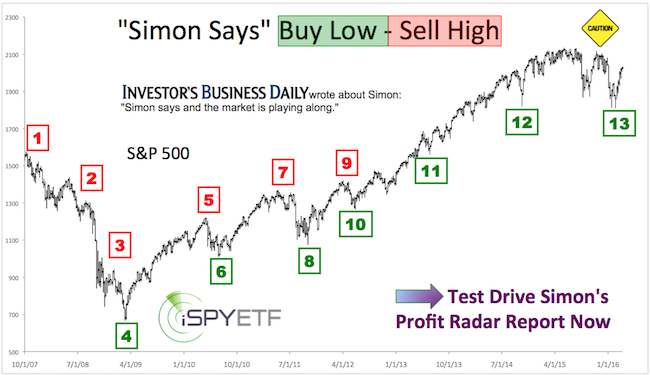 If you enjoy quality, hand-crafted research, >> Sign up for the FREE iSPYETF Newsletter