At the beginning of the year, the US dollar was the most despised asset of the investment universe. Headlines like the ones below were common:
Why it may be downhill from here for the US dollar – MarketWatch

USD poised for a bear market – FXStreet

U.S. dollar bear market: 3 reasons it can continue - SeekingAlpha
Contrary to the prevailing opinion, the Profit Radar Report was looking for a major US dollar bottom and a major euro top (the US dollar and euro move in opposite directions).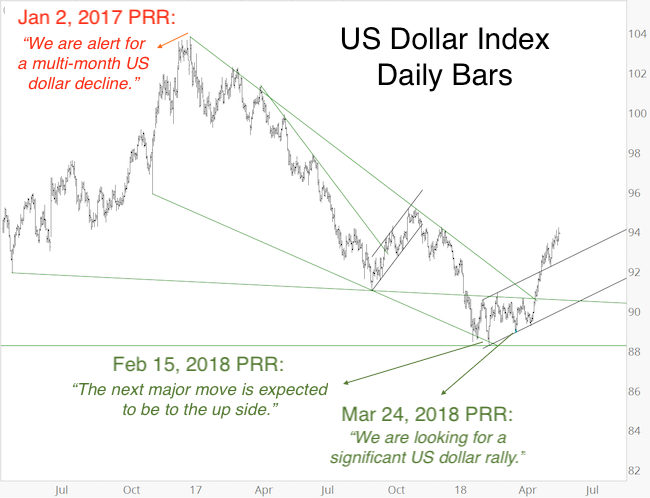 The February 15 Profit Radar Report published the chart below and stated: "Regardless of the when and where exactly the EUR/USD tops, the next major move is expected to be to the down side."
Barron's rates iSPYETF as "trader with a good track record" and Investor's Business Daily says: "When Simon says, the market listens." Find out why Barron's and IBD endorse Simon Maierhofer's Profit Radar Report.
The chart highlights technical resistance for the EUR/USD and a very bearish posture by commercial hedgers (smart money).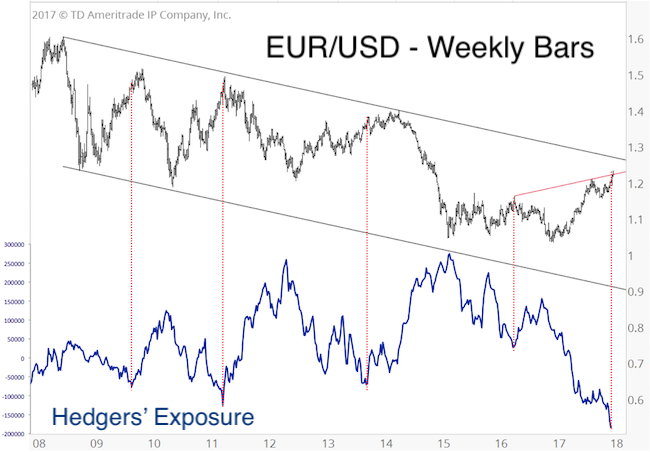 The EUR/USD (or euro) topped the next day, but wasn't in a hurry to move lower.
The March 24 Profit Radar Report stated that: "Back in February cycles were not yet bullish, but that's about to change. Smart money hedgers remain near record bullish. Although it is possible for the USD to carve out one more low (blue labels), its not required. We are looking for a significant USD rally and EUR/USD decline in 2018.
If you enjoy quality, hand-crafted research, >> Sign up for the FREE iSPYETF Newsletter
The charts below (published in the March 24 Profit Radar Report) shows a detailed US dollar Elliott Wave projection and long-term EUR/USD projection.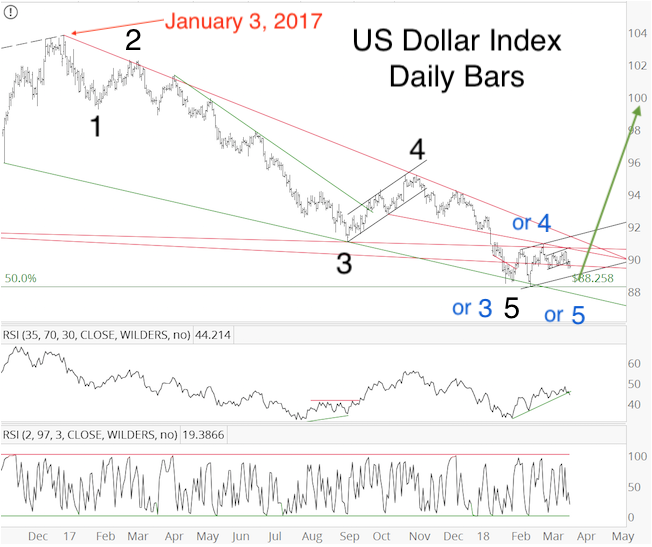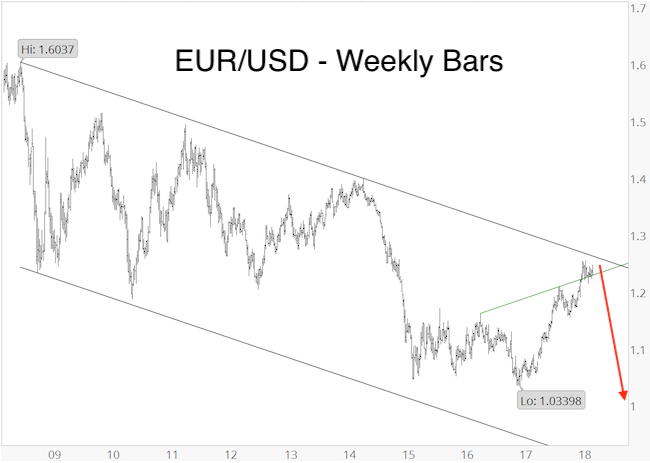 In addition to sentiment and Elliott Wave Theory, basic technicals showed bullish divergences at the February US dollar low, and up trend confirmation throughout the rally since.
What's Next?
Over the coming 1 – 3 months the pace of this advance is likely to slow as the dollar carves out a small wave 4 correction and wave 5 rally, which should be followed by a larger wave 2 decline.
Once this sequence is complete, the dollar will probably rally strongly for many months, causing havoc on assets (particularly foreign US dollar denominated bonds) around the globe.
This will be a major theme and trend in the months/years to come. We do not want to miss the upcoming opportunities caused by the ripple effect of a rising dollar. As always, opportunity for some will mean risk for others.
Continued updates, along with trade recommendations, will be available via the Profit Radar Report.
ETFs that benefit from a rising dollar and falling euro include:
PowerShares DB US Dollar Bullish ETF (UUP)

ProShares UltraShort Euro ETF (EUO)

or short the PowerShares Euro ETF (FXE)
Simon Maierhofer is the founder of iSPYETF and the publisher of the Profit Radar Report. Barron's rated iSPYETF as a "trader with a good track record" (click here for Barron's profile of the Profit Radar Report). The Profit Radar Report presents complex market analysis (S&P 500, Dow Jones, gold, silver, euro and bonds) in an easy format. Technical analysis, sentiment indicators, seasonal patterns and common sense are all wrapped up into two or more easy-to-read weekly updates. All Profit Radar Report recommendations resulted in a 59.51% net gain in 2013, 17.59% in 2014, and 24.52% in 2015.
Follow Simon on Twitter @ iSPYETF or sign up for the FREE iSPYETF Newsletter to get actionable ETF trade ideas delivered for free.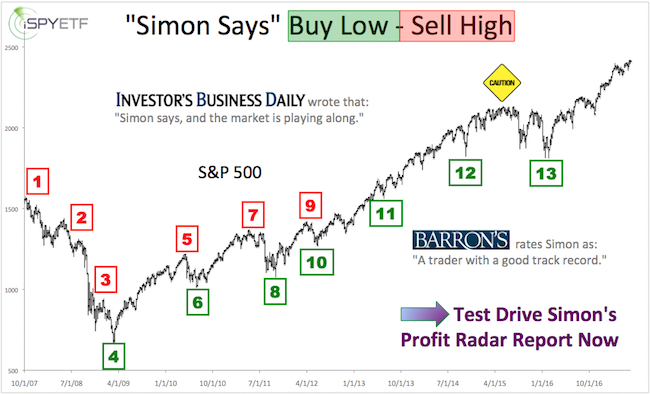 If you enjoy quality, hand-crafted research, >> Sign up for the FREE iSPYETF Newsletter