Amidst last week's selling frenzy – which took the S&P 500 down as much as 6.36% in 3 days – selling pressure was close to the 'throw in the towel' levels since in February.
At the February lows, there were two back-to-back days where 89% of stocks traded on the NYSE declined.
The February 5 Profit Radar Report stated back then: "On Friday and Monday, 89% of NYSE stocks declined. Two back-to-back 89% down days are generally indicative of selling exhaustion."
As mentioned in Sunday's Profit Radar Report, last Wednesday, 89% of NYSE stocks declined, which was followed by a 79% reading on Thursday.
Barron's rates iSPYETF as "trader with a good track record" and Investor's Business Daily says: "When Simon says, the market listens." Find out why Barron's and IBD endorse Simon Maierhofer's Profit Radar Report.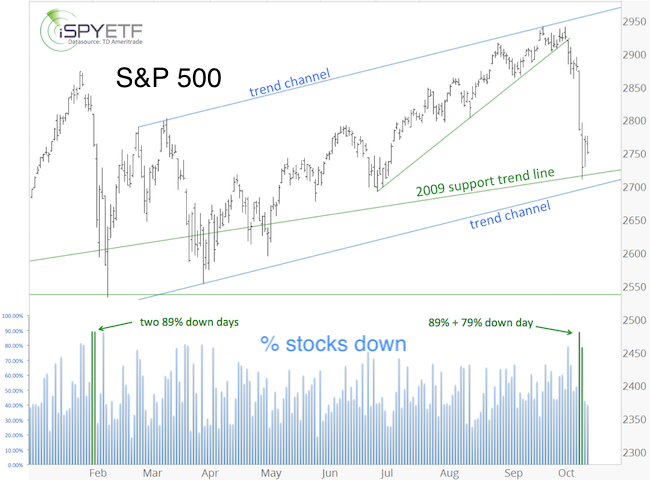 Last week's selling was not as pronounced as in February, but reached near-panic levels while price touched support going back to 2009 (green line). The blue trend line channel should provide additional support if needed.
If you enjoy quality, hand-crafted research, >> Sign up for the FREE iSPYETF Newsletter
While the larger trend may have changed from up to down, the odds of a short-term bounce are rising.
Worth noting is that the initial two 89% down days were followed by a third shortly thereafter. Will it take another strong down day to carve out a more significant low?
Continued updates are available via the Profit Radar Report.
Simon Maierhofer is the founder of iSPYETF and the publisher of the Profit Radar Report. Barron's rated iSPYETF as a "trader with a good track record" (click here for Barron's profile of the Profit Radar Report). The Profit Radar Report presents complex market analysis (S&P 500, Dow Jones, gold, silver, euro and bonds) in an easy format. Technical analysis, sentiment indicators, seasonal patterns and common sense are all wrapped up into two or more easy-to-read weekly updates. All Profit Radar Report recommendations resulted in a 59.51% net gain in 2013, 17.59% in 2014, 24.52% in 2015, 52.26% in 2016, and 23.39% in 2017.
Follow Simon on Twitter @ iSPYETF or sign up for the FREE iSPYETF Newsletter to get actionable ETF trade ideas delivered for free.