Subscribers to iSPYETF's free e-mail newsletter receive a market outlook, usually once a week. The market outlook below was sent out on April 14, 2022. If you'd like to sign up for the free e-newsletter, you may do so here (we will never share your e-mail with anyone, just as we don't accept advertising).
The last free Market Outlook (from March 25) featured the chart below and highlighted that the S&P 500 reached the 'where the rubber meets the road' zone.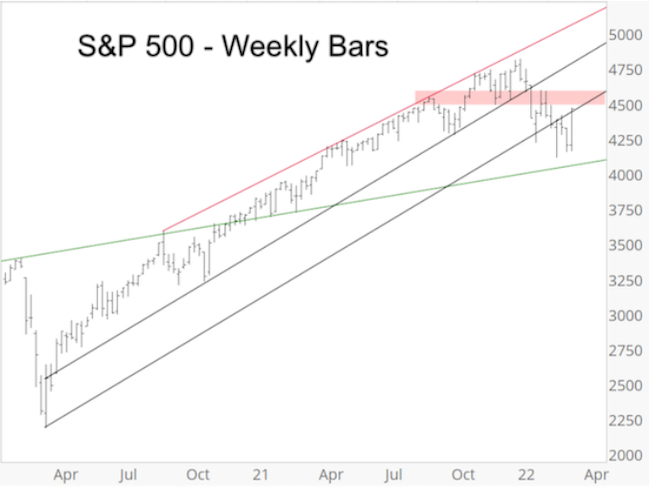 Why did I dub it "where the rubber meets the road zone?" Because the expected rally from the March low was likely to reveal its intentions (relief bounce or rally to new highs) in that zone.
Or, as the last Market Outlook put it: "This zone is likely where we'll find out if the bounce has legs or will roll over."
To be honest, I thought that the S&P would eventually push through this zone (because that's what the weight of evidence suggested), but if it was going to roll over again, it was likely to happen in that zone.
As the chart below shows, the S&P stalled and reversed in that zone.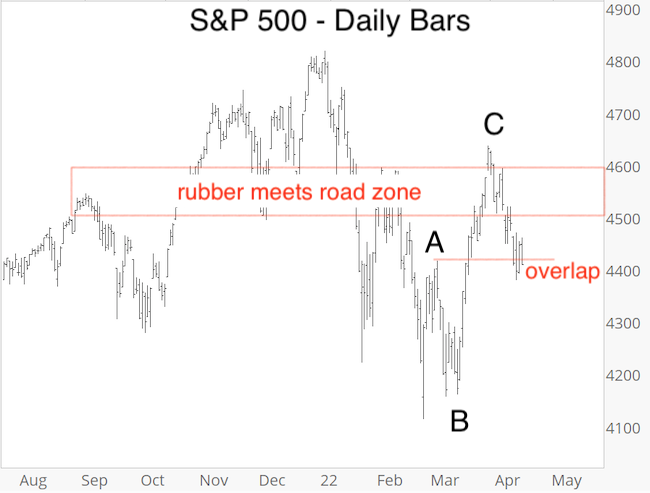 In addition, price also fell below the March 3 high (4,416.78). In terms of Elliott Wave Theory, this means that the most straight-forward bullish interpretation (5-wave rally) was eliminated. At this point, the rally looks like a counter trend A-B-C rally.
There are other interpretations that still allow for a bullish outcome (as suggested by the Risk/Reward Heat Map), but those have to be proven first.
As it stands, the analysis shared in the Profit Radar Report (and even free Market Outlook) consistently pointed towards a strong bounce in March (which prevented investors from selling near the March lows) and refrained from chasing stocks when folks starting buying again a few weeks ago.
This is the power of objective, comprehensive, fact-based research void of emotions and biases. If that's the kind of analysis you're looking for, sign up for the Profit Radar Report.
The Profit Radar Report comes with a 30-day money back guarantee, but fair warning: 90% of users stay on beyond 30 days.
Barron's rates iSPYETF a "trader with a good track record," and Investor's Business Daily writes "Simon says and the market is playing along."