Back in February, the Profit Radar Report published the two most likely S&P 500 forward projections (one of them shown below, the other one was very similar), and stated that: "Both scenarios will eventually lead to new all-time highs."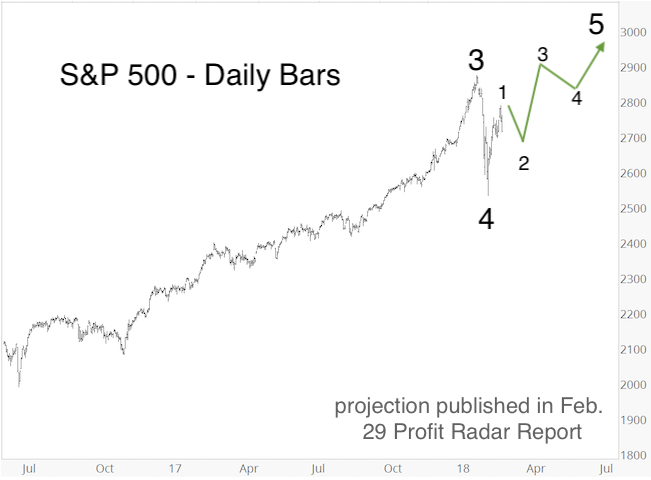 My ideal up side target has been 3,000+/-, but risk increased once the minimum up side target (new highs) was reached.
Based on a number of bearish developments and divergences, the September 19 Profit Radar Report stated that: "Chasing price here comes with more risk than reward."
Barron's rates iSPYETF as "trader with a good track record" and Investor's Business Daily says: "When Simon says, the market listens." Find out why Barron's and IBD endorse Simon Maierhofer's Profit Radar Report.
The September 30 Profit Radar Report tried to quantify the down side risk - based on the trend channel shown below – and stated: "A test of the lower trend channel (around 2,850) could be wave 4, followed by wave 5 towards or above 3,000."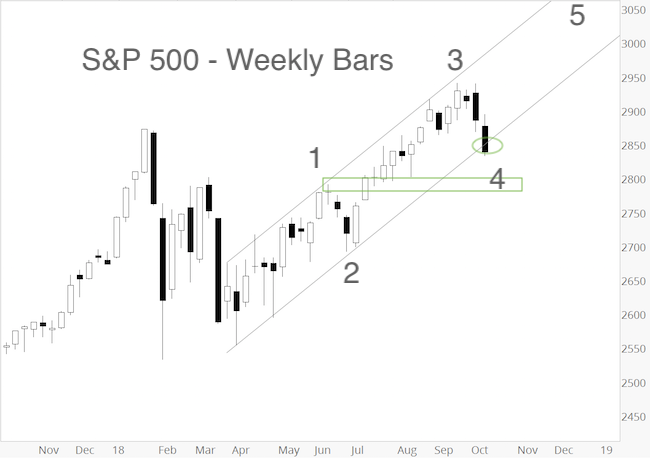 Obviously the S&P has already reached 2,850, and is now over-sold, and just above Fibonacci support around 2,830. Another area of support (based on Elliott Wave Theory for a diagonal) is the June 13 high around 2,791.
If you enjoy quality, hand-crafted research, >> Sign up for the FREE iSPYETF Newsletter
While in that range (2,850 – 2,780), the S&P can (and I think will) still find support for a year-end rally to 3,000+/-.
Of course there is a chance that the September high marks a more significant top with down side targets at 2,600 – 2,200.
We will likely reach those down side targets eventually, but a prior attempt to take out 3,000 would conform to seasonality, take out premature bears, and allow some of those bearish divergences to mature even further and set the stage for a bear market.
The months ahead should certainly be exciting!
Continued updates are available via the Profit Radar Report.
Simon Maierhofer is the founder of iSPYETF and the publisher of the Profit Radar Report. Barron's rated iSPYETF as a "trader with a good track record" (click here for Barron's profile of the Profit Radar Report). The Profit Radar Report presents complex market analysis (S&P 500, Dow Jones, gold, silver, euro and bonds) in an easy format. Technical analysis, sentiment indicators, seasonal patterns and common sense are all wrapped up into two or more easy-to-read weekly updates. All Profit Radar Report recommendations resulted in a 59.51% net gain in 2013, 17.59% in 2014, 24.52% in 2015, 52.26% in 2016, and 23.39% in 2017.
Follow Simon on Twitter @ iSPYETF or sign up for the FREE iSPYETF Newsletter to get actionable ETF trade ideas delivered for free.