Subscribers to iSPYETF's free e-mail newsletter receive a market outlook, usually once a week. The market outlook below was sent out on February 18. If you'd like to sign up for the free e-newsletter, you may do so here (we will never share your e-mail with anyone, just as we don't accept advertising).
I am on the road, so today's free Market Outlook will be short and sweet.
Last week, the Nasdaq-100 broke the 100% barrier, based on intra-day prices it doubled in value from the March 2020 low. Based on daily closing prices, the Nasdaq-100 closed February 8 with a 95.80% gain.
Since 1985, the Nasdaq-100 has rallied 95% or more from a 52-week low 5 other times. Forward performance was troublesome as discussed here.
The S&P 500 may have completed 5 waves up from the January 29 low. The chart below, shown in yesterday's Profit Radar Report, shows how it looks.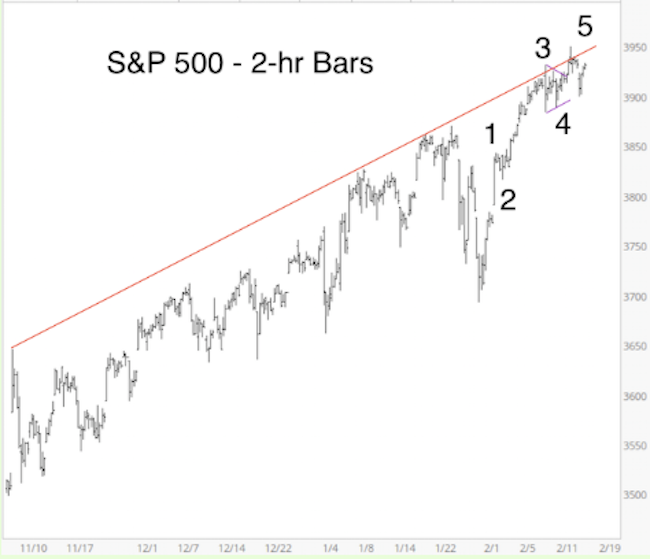 Due to the persistent strength, more than 80% of S&P 500 components have traded above their 200-day SMA for 66 days straight. This has only happened 4 other times in the 21st century. Sunday's Profit Radar Report featured the corresponding study which shows forward performance for each instance.
As The DJIA closed above trend line resistance yesterday, but breadth was negative. It's back below again, and risk is high as long as it stays below.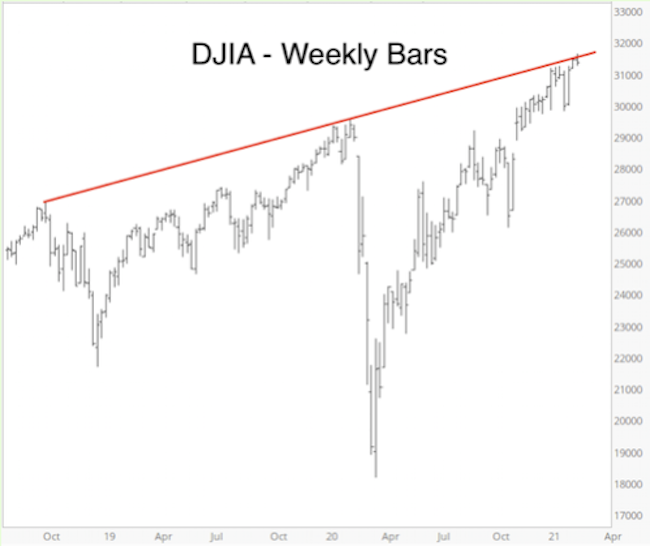 I concluded Sunday's Profit Radar Report with the following words and will share them with you here:
"I spent hours analyzing the studies compiled and evaluated since February 1, and 11 of them project risk for the next month, only 2 favored reward. It's a buying frenzy out there and rational analysis can be trumped by irrational behavior. A blow-off melt up before a return to normal jolts investors back into reality is possible. However, such a melt up is something an analyst allows for but doesn't bet on."
Continued updates and the new 2021 S&P 500 Forecast are available via the Profit Radar Report.
The Profit Radar Report comes with a 30-day money back guarantee, but fair warning: 90% of users stay on beyond 30 days.
Barron's rates iSPYETF a "trader with a good track record," and Investor's Business Daily writes "Simon says and the market is playing along."