"What it means to be a successful investor in 2016 can be summed up in four words: bigger gambles, lower returns." – Wall Street Journal
The Wall Street Journal just reported that investors need to pile on more risk just to get a reasonable return.
According to the WSJ and research by Callan Associates, in 1995, a portfolio of save bonds would return 7.5% with little risk and volatility.
Thanks to rock-bottom interest rates, and lackluster growth, investors are now forced to take on much more risk just to get close to a 7.5% return. How much more risk?
To eek out 7.5% in 2015, investors had to shrink their save bond position from 100% to just 12% and pump the remainder of their portfolio into much riskier assets.
The chart below illustrated the progression from high returns/low risk to high risk/low returns.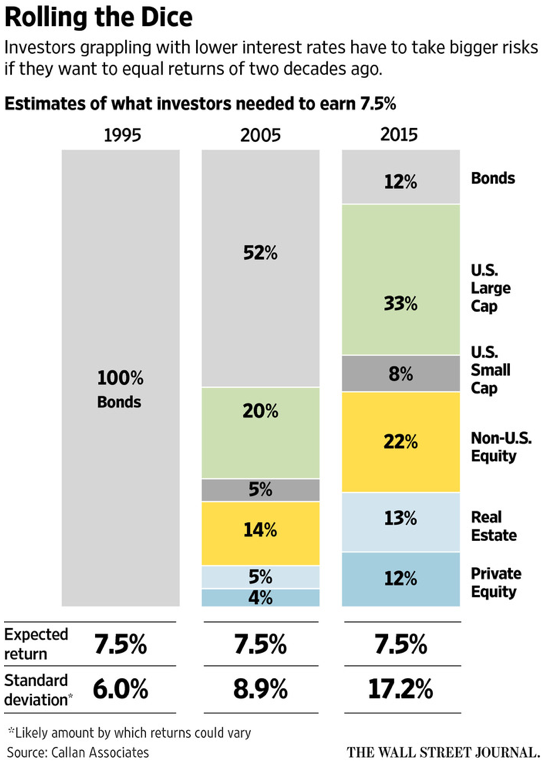 How to Reduce Risk
There are two approaches to reduce risk:
Price: Only enter trades with a favorable risk/reward ratio

Time: Not to be (fully) invested all the time
The Profit Radar Report utilizes both strategies to reduce risk.
Price
The Profit Radar Report recommends about 25 carefully selected trades per year. Trades that pass our intense qualifications are:
a) Low risk trades: Risk is reduced to a bare minimum or
b) High probability trades: The odds of being right are exceptionally high
This page explains our trade selection process.
The Profit Radar Report has outperformed the S&P 500 every year since inception. Performance details are available here.
Time
Because we only take the best trade setups, we are only invested a fraction of the year, and don't have permanent default exposure to risk. For example, the Profit Radar Report did not have any equity exposure during the August 2015 and January 2016 mini-meltdowns.
If you are looking for a low-maintenance way to reduce risk and juice returns, the Profit Radar Report may be for you.
Our latest S&P 500 trade (the first one since buying the S&P on February 11 at 1,828) is shown here.
Simon Maierhofer is the founder of iSPYETF and the publisher of the Profit Radar Report. Barron's rated iSPYETF as a "trader with a good track record" (click here for Barron's profile of the Profit Radar Report). The Profit Radar Report presents complex market analysis (S&P 500, Dow Jones, gold, silver, euro and bonds) in an easy format. Technical analysis, sentiment indicators, seasonal patterns and common sense are all wrapped up into two or more easy-to-read weekly updates. All Profit Radar Report recommendations resulted in a 59.51% net gain in 2013, 17.59% in 2014, and 24.52% in 2015.
Follow Simon on Twitter @ iSPYETF or sign up for the FREE iSPYETF Newsletter to get actionable ETF trade ideas delivered for free.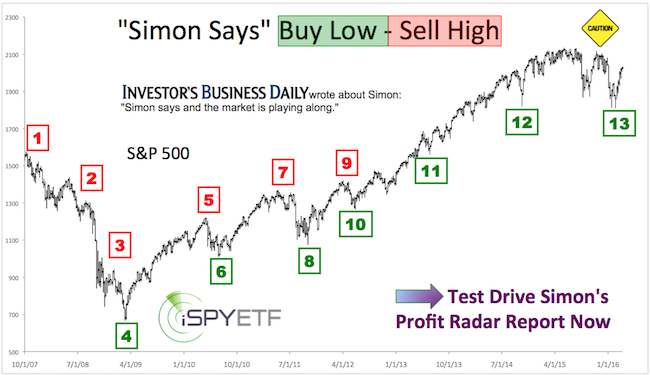 If you enjoy quality, hand-crafted research, >> Sign up for the FREE iSPYETF Newsletter