Inflation is on the rise and it's a real concern for consumers and investors. To help readers assess and navigate the inflationary environment I am publishing excerpts of recent Profit Radar Reports below:
Barron's rates iSPYETF a "trader with a good track record," and Investor's Business Daily writes "Simon says and the market is playing along."
Excerpt from the August 22, 2021 Profit Radar Report:
The June 6, 2021 Profit Radar Report talked about inflation and stated the following:
"From a contrarian perspective, when a trend becomes too popular, it's usually nearing its end. However, unlike any other class, inflation can turn into a movement and instead of reversing it could turn into a self-fulfilling prophecy. How so? If the fear of inflation becomes engrained enough for consumers to buy items today because they fear it will cost more tomorrow, the cost of goods will rise regardless or despite of supply and demand forces.
I don't think we are there yet and we may see inflation stabilize for a while. Nevertheless, inflation will likely become more of an influence for our recommended trades. In times past, when cash was king, we were more content sitting out a trade knowing the purchasing power of cash will remain stable. Moving forward, more research will be devoted to identifying sectors and commodities more likely to prosper in an inflationary environment."
Since the above assessment, the CPI's 12-month rate of change (ROC) increased from 4.2% to 5.3% but Google searches from inflation dropped 43%. At this point it doesn't seem like consumers' fear of inflation is pronounced enough to turn it into a self-fulfilling movement.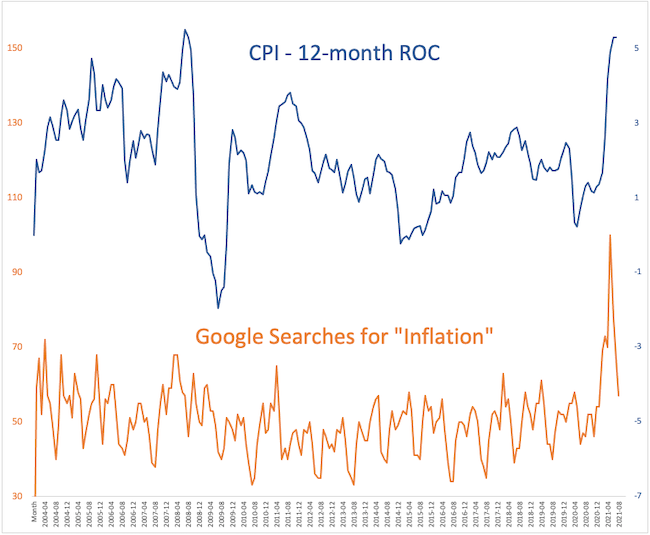 Commodities in general, one of the better inflation hedges, haven't moved any higher over the last couple months.
DBC (Invesco Commodity ETF) dropped 8.7% from its high, but is at support while over-sold.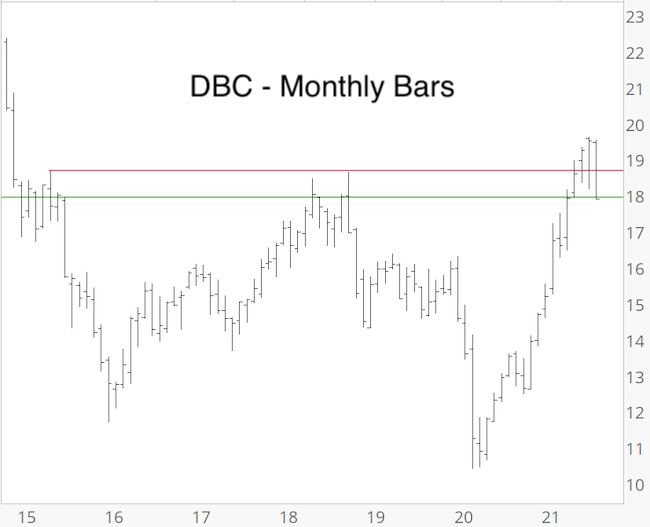 DBA (Invesco Agriculture ETF) was unable to break higher, pulled back, and is also near support while almost over-sold.
This is a short-term inflection zone for DBC and DBA. We'd like to ultimately see a deeper pullback (possibly after a bounce).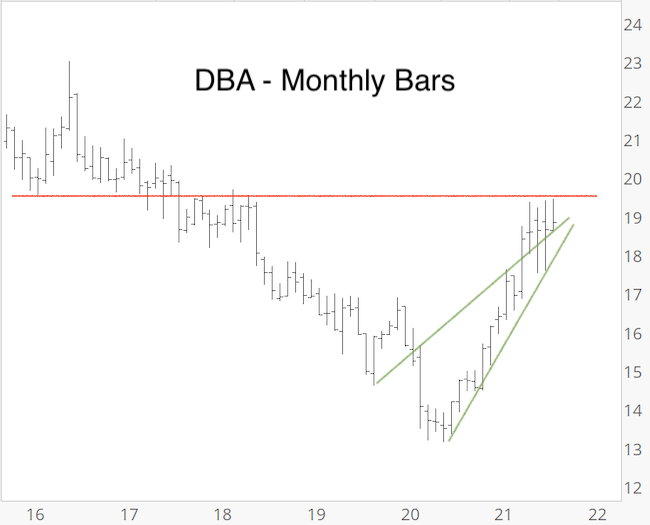 Excerpt from the August 18, 2021 Profit Radar Report
EWZ (iShares MSCI Brazil ETF) failed to close the open chart gap (dashed purple line) at 42.09 by a few tics and has since dropped some 15% and sliced through the rising support trend line. By many measures (in addition to RSI-2), EWZ is oversold.
About 25% of Brazilian stocks are in the materials sector, as such EWZ is a partial commodity play, and as mentioned in the June 6, 2021 Profit Radar Report, commodities are historically one of the best inflation hedges. Short-term, EWZ would have to move back above resistance or meet the next support around 34 for a lower risk entry.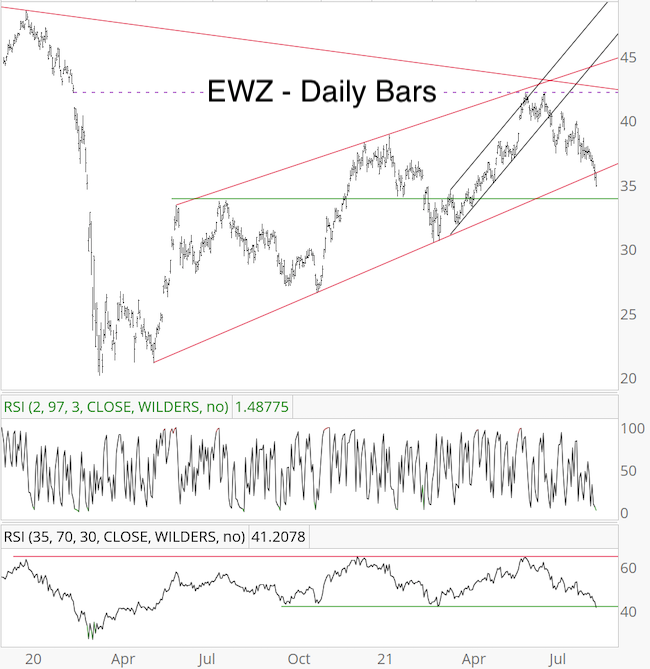 Continuous updates are available via the Profit Radar Report.
Simon Maierhofer is the founder of iSPYETF and the publisher of the Profit Radar Report. Barron's rated iSPYETF as a "trader with a good track record" (click here for Barron's evaluation of the Profit Radar Report). The Profit Radar Report presents complex market analysis (S&P 500, Dow Jones, gold, silver, euro and bonds) in an easy format. Technical analysis, sentiment indicators, seasonal patterns and common sense are all wrapped up into two or more easy-to-read weekly updates.
Follow Simon on Twitter @iSPYETF or sign up for the FREE iSPYETF e-Newsletter to get actionable ETF trade ideas delivered for free.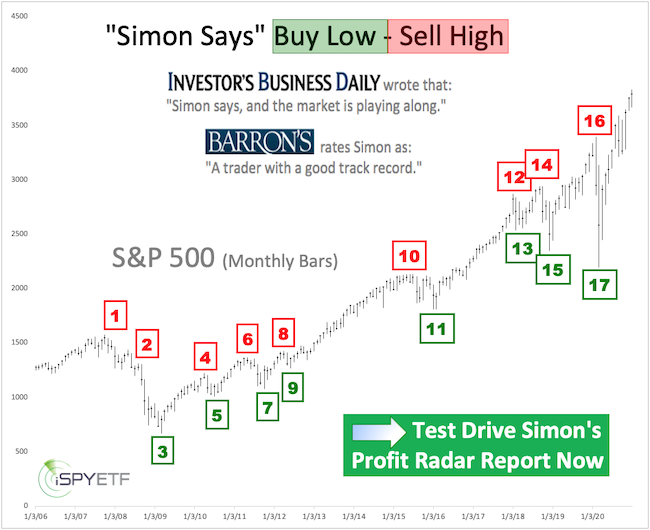 If you enjoy quality, hand-crafted research, sign up for the FREE iSPYETF e-newsletter & market outlook