Gold has been on fire! Up almost 10% over the past month.
I would be more thrilled about gold's run if it hit my down side target first.
The March 3 Profit Radar Report featured this longer term projection for gold (yellow lines, chart below).
Barron's rates iSPYETF as "trader with a good track record" and Investor's Business Daily says: "When Simon says, the market listens." Find out why Barron's and IBD endorse Simon Maierhofer's Profit Radar Report.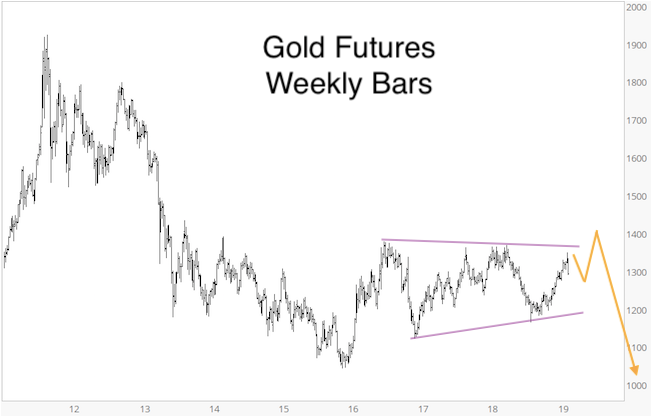 The March 13 Profit Radar Report provided this shorter term roadmap and target levels for a buyable low. The blue down side target boxes where around 1,260 and 1,240.
We had a buy limit for gold futures at 1,265 and for the SPDR Gold Shares ETF (GLD) at 119. Unfortunately gold stopped just shy of 1,265 (and GLD before 119) before staging a strong rally.
If you enjoy quality, hand-crafted research, >> Sign up for the FREE iSPYETF e-Newsletter
What's Next?
The yellow projection shown in the March 3 Profit Radar Report assumed a triangle breakout followed by a relapse.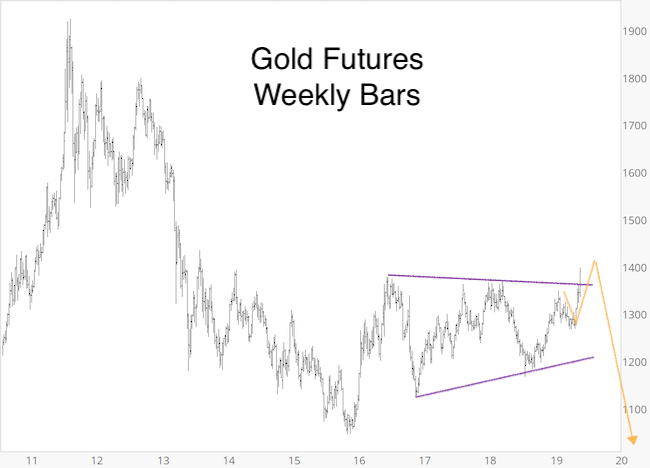 However, there is an alternate, more bullish path. Regardless, we wanted to buy gold because both scenarios pointed higher.
Now the question is whether to chase price or not? Short-term, gold is over-bought. But as long as trade remains above 1,350, trade can continue to grind higher (which would improve the odds of the more bullish path).
Continued updates and projections are available via the Profit Radar Report.
Simon Maierhofer is the founder of iSPYETF and the publisher of the Profit Radar Report. Barron's rated iSPYETF as a "trader with a good track record" (click here for Barron's evaluation of the Profit Radar Report). The Profit Radar Report presents complex market analysis (S&P 500, Dow Jones, gold, silver, euro and bonds) in an easy format. Technical analysis, sentiment indicators, seasonal patterns and common sense are all wrapped up into two or more easy-to-read weekly updates. All Profit Radar Report recommendations resulted in a 59.51% net gain in 2013, 17.59% in 2014, 24.52% in 2015, 52.26% in 2016, and 23.39% in 2017.
Follow Simon on Twitter @ iSPYETF or sign up for the FREE iSPYETF e-Newsletter to get actionable ETF trade ideas delivered for free.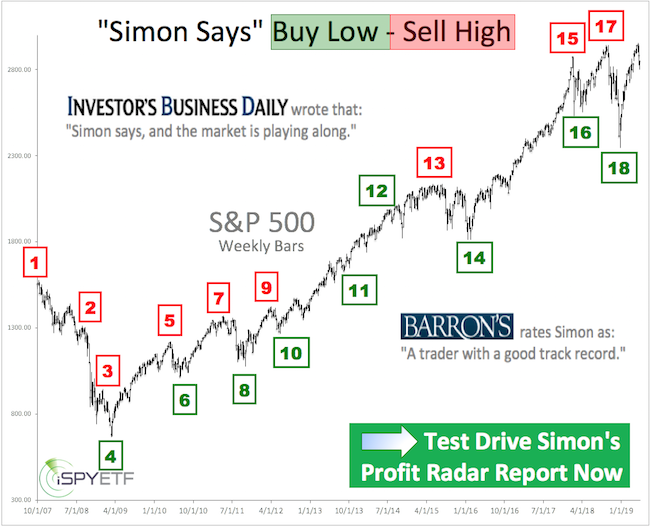 If you enjoy quality, hand-crafted research, >> Sign up for the FREE iSPYETF e-Newsletter