Are you looking to buy and own gold? Do you want to buy gold at the lowest possible price?
If so, this article is for you.
Holding physical gold, like gold coins or gold bullion, in your hand is a special feeling and comes with certain advantages. If you like physical gold, you may appreciate some of gold's unique properties:
Gold is very pliable: A single ounce of gold can be stretched into a 5-mile long thread or beaten out into a 300-square foot shoot.
Gold is non-toxic: You may find gold metal flakes (remember it's pliable) in exotic foods or unusual Swiss liquor. I still have a bottle of GoldSchlager schnapps in my well stocked by under utilized bar.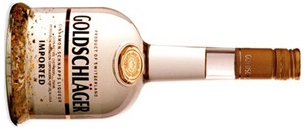 Gold is considered protection against financial turmoil. What kind of protection? Good question. I guess unless you were looking to buy protection against making money, owning gold in recent years has been little more than an expensive placebo (more on when to buy gold below).
Regardless, many investors want gold to be part of their investment portfolio and feel that gold ETFs are a simple and superior vehicle for owning gold.
There are a number of gold and gold-related ETFs. The two biggest gold ETFs are the SPDR Gold Shares (NYSEArca: GLD) and iShares Gold Trust (NYSEArca: IAU).
Although IAU has a lower annual expense ratio (0.25%), GLD (with its 0.40% expense ratio) has more assets under management. Both ETFs track the price of gold well.
When to Buy Gold
As the gold chart below shows (the chart reflects actual gold prices, not gold ETF prices), gold prices can be quite volatile and buying or selling the precious yellow metal at the wrong time can cause a lot of headache (perhaps that's where owning physical gold in the form of GoldSchlaeger schnapps helps).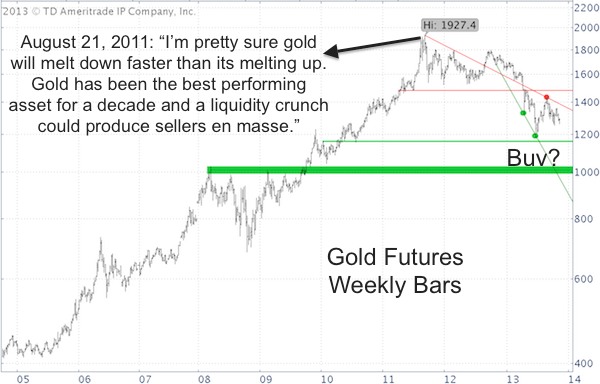 In 2011 gold was caught up in an outright frenzy or bubble.
A couple of weeks before gold topped out in September 2011, I warned via the August 21 and August 24, 2011 edition of the Profit Radar Report:
"I don't know how much higher gold will spike but I'm pretty sure it will melt down faster than its melting up. At some point investors will have to sell holdings to pay off debt or answer margin calls. The most profitable asset is sold first. Gold has been the best performing asset for a decade and a liquidity crunch could produce sellers en masse."
Since the 2011 high, there have been some smaller opportunities to buy gold (green dots). All of those opportunities occurred when gold prices found support at the green trend line.
Overall though, buying gold in recent years has been a losing proposition.
I believe that an opportunity to buy gold will soon present itself.
The time to own gold will likely be when the price of gold falls to reach one of the horizontal green price support zones.
I will continue to share my thoughts and forecasts on gold prices and GLD via the Profit Radar Report.
Simon Maierhofer is the publisher of the Profit Radar Report. The Profit Radar Report uses technical analysis, dozens of investor sentiment gauges, seasonal patterns and a healthy portion of common sense to spot low-risk, high probability trades (see track record below).
Follow Simon on Twitter @ iSPYETF or sign up for the iSPYETF Newsletter to get actionable ETF trade ideas delivered for free.