Subscribers to iSPYETF's free e-mail newsletter receive a market outlook, usually once a week. The market outlook below was sent out on June 24. If you'd like to sign up for the free e-newsletter, you may do so here (we will never share your e-mail with anyone, just as we don't accept advertising).
Guess what? The market just delivered another 'first ever.' Last Friday, only 33% of S&P 500 stocks traded above their 50-day SMA while almost 90% remained above their 200-day SMA.
This is the 2nd biggest spread between the two SMAs and the biggest spread with more than 80% of stocks trading above their 200-day SMA.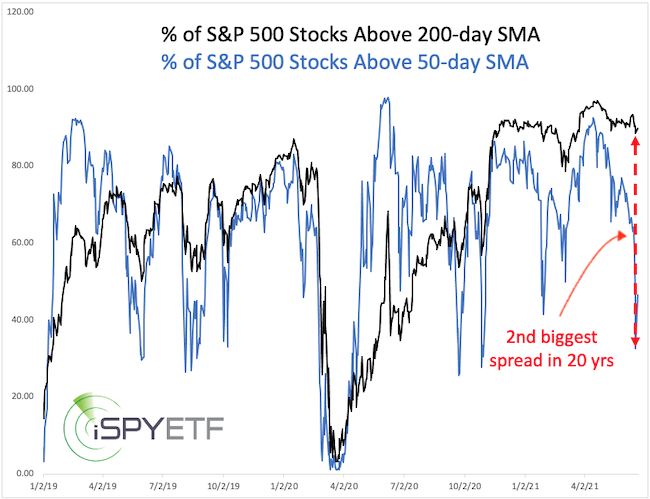 Of course I wanted to find out what that means for stocks moving forward, so I identified other, obviously less extreme, precedents. The results were published in Wednesday's Profit Radar Report.
After taking a break for most of 2021, the FAANG-tastic stocks are showing a pulse again. AMZN is bumping against resistance and AAPL is on the verge of breaking out of a triangle.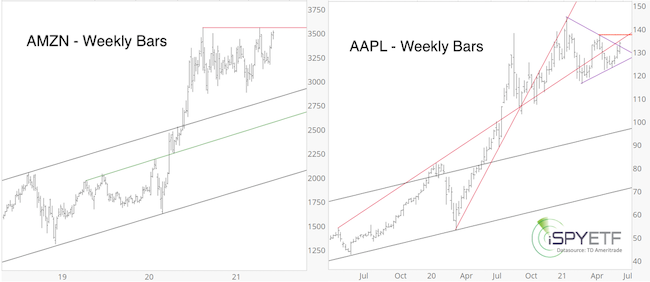 It will take a break above their respective resistance levels to unlock higher targets. General cycles and seasonality are not favorable, but a breakout - if it occurs - could curtail those forces.
TSLA has been underperforming pretty much anything, but just came back to life (I recommended to short TSLA at 770 in April, and we bought back at 620 earlier in June).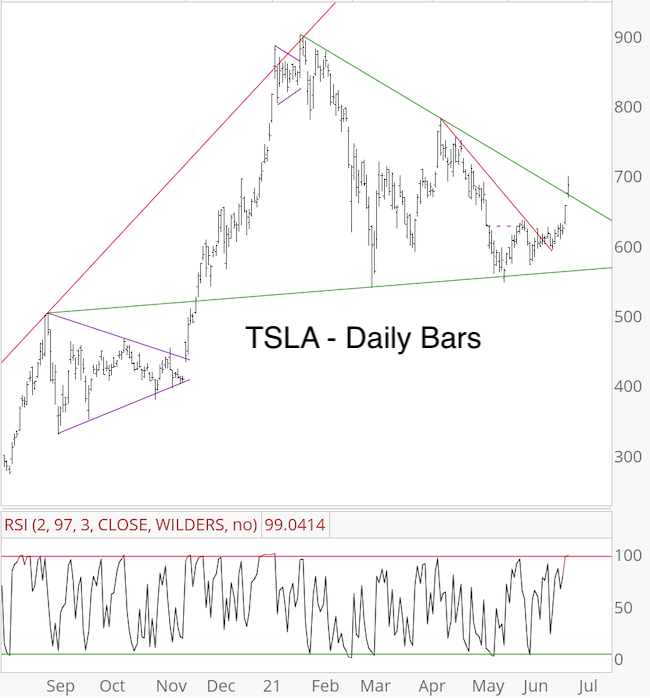 TSLA made it above the ascending green trend line, which is a positive. However, RSI-2 is over-bought and the chart pattern still retains a fair amount of potential bearish energy. In short, while above 655, any bearish pattern is put on hold, but watch out of 655 fails.
Continued updates, out-of-the box analysis and forward performance based on historic precedents are available via the Profit Radar Report.
The Profit Radar Report comes with a 30-day money back guarantee, but fair warning: 90% of users stay on beyond 30 days.
Barron's rates iSPYETF a "trader with a good track record," and Investor's Business Daily writes "Simon says and the market is playing along."