Subscribers to iSPYETF's free e-mail newsletter receive a market outlook, usually once a week. The market outlook below was sent out on January 28. If you'd like to sign up for the free e-newsletter, you may do so here (we will never share your e-mail with anyone, just as we don't accept advertising).
This is has been the most exciting week in quite a while, and I've actually got some cool charts to share.
Here is the first one, and it compares the year-to-date 2021 S&P 500 performance with that of 2020. Trippy!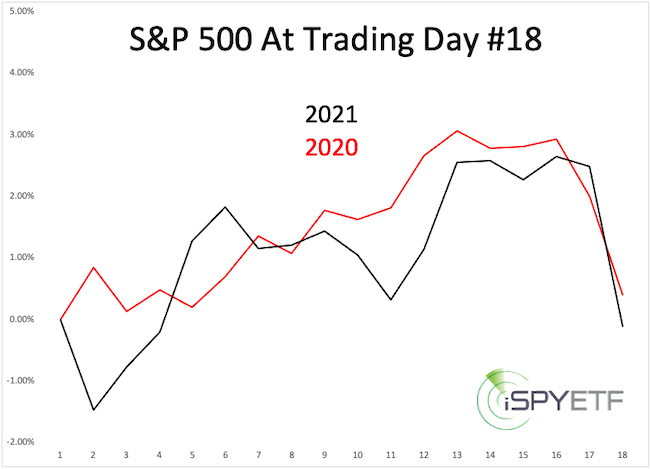 Considering the close resemblance and the fact that both December/January 2020 and December/January 2021 hosted epic tug-of-wars, I had to ask:
What are the odds of a 2020 replay in 2021. The answer is posted here.
I don't think it got a lot of play, but yesterday the VIX spiked 61.64% (based on daily close), the 3rd biggest spike in history. Mind you that the S&P was down 'only' 2.57%.
The table below shows all daily VIX spikes greater than 40%. The right set of columns sorts results by VIX % change. The left set is sorted by date.
Rows in blue highlight >40% VIX spikes that occurred while VIX was above 30. The ratio column compares the VIX move to the S&P 500 move. Yesterday's VIX spike was the 2nd most 'overdone' VIX move behind the 115.60% spike on 2/5/18.
... and all this happened with the CBOE equity put/call ratio staying level at a low and cool 0.40.
What does this all mean? The bottom line S&P 500 outlook is stated at the end of this article.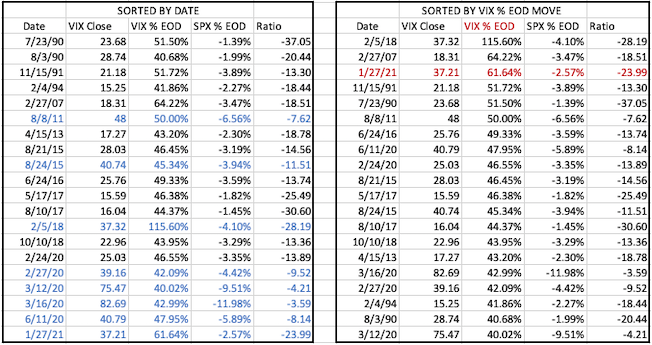 Last week's Market Outlook stated that: "Our approach has been, and continues to be: Higher prices are likely as long as support holds. But, extreme euphoria brings risk of a nasty pullback, so I'm also trying to discern where that risk potential might turn into reality. The dashed trend channel center line could be a 'pressure point' for the iShares Russell 2000 ETF (IWM)."
Below is an updated IWM chart, which shows that the dashed trend channel has lived up to its 'pressure point' promise.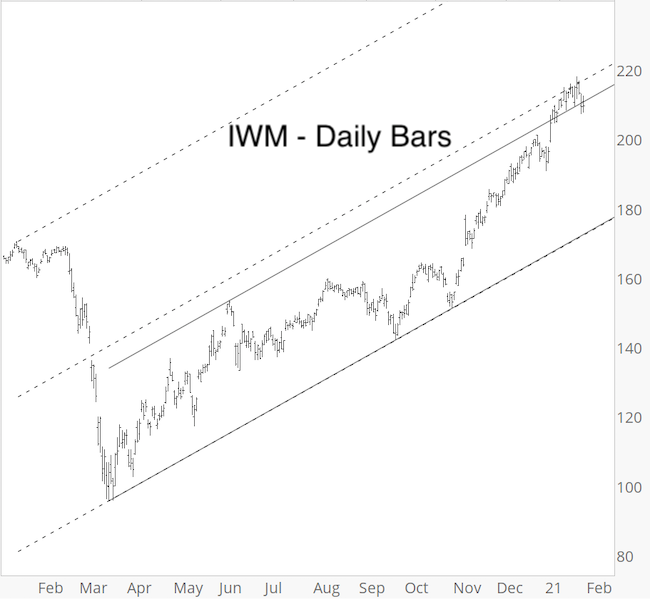 I went back and looked at some older Russell 2000 studies that were published in November and December Profit Radar Reports and found some real neat nuggets of information.
Reviewing older studies is helpful, because they include the forward performance for the next year (it's now possible to see how those studies are holding up to reality).
The most bullish precedents of both studies pointed to end of January turnarounds for the Russell 2000.
The full fascinating piece is available here on Investing .com: This Red Hot ETF Reveals Bigger Stock Market Conundrum
A word about Investing .com: As many of you know, MarketWatch used to regularly publish my columns. However, the parent company - the Dow Jones Company, which also owns Wall Street Journal and Barron's - decided to only publish content by staff and freelance journalists. You may have also noticed a shift in MarketWatch charging for what used to be free content.
Time permitting, I will publish pieces on Investing .com. So if you like the above article, please leave a comment or follow me.
The detailed 2021 S&P 500 Forecast is now available. It includes 20 charts, one of them is an actual S&P 500 price projection for 2021 based on the following factors:
Continued updates and the new 2021 S&P 500 Forecast are available via the Profit Radar Report.
The Profit Radar Report comes with a 30-day money back guarantee, but fair warning: 90% of users stay on beyond 30 days.
Barron's rates iSPYETF a "trader with a good track record," and Investor's Business Daily writes "Simon says and the market is playing along."