China has been an ongoing theme here at iSPYETF.com. The October 11, 2012 article "Contrarian Investment Idea: China ETF Looks so Bad, is it a Buy?" recommended to buy iShares FTSE China 25 ETF (FXI) with a breakout above 36.50.
Since then FXI rallied as much as 15% and just recently pulled back to test trend line support (see first chart).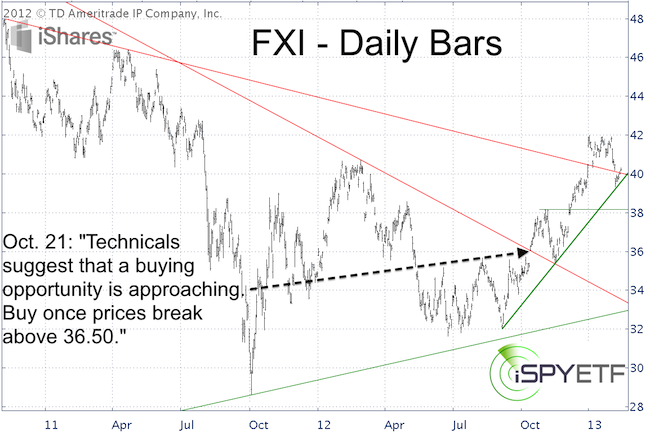 Over the long-term, Chinese stocks have a lot more up side potential and buy-and hold investors might be better off simply holding on to a long China position.
If you are interested in short-term profit management, the bold green trend line is of interest. This trend line has acted as support since September 2011. FXI's up trend is alive and well as long as prices remain above it.
However, the trend line is ascending at a trajectory steep enough to validate an eventual break below. Additional support is provided by the horizontal green line around 38.
The second chart provides common Fibonacci retracement levels and additional longer-term support resistance levels. Based on Fibonacci's wisdom, 39.92 is a support/resistance level to be watched as well.
Bottom line, as long as prices remain above 38 +/- the trend for FXI is up.
Make the ETF SPY work for You >> Sign up for the FREE iSPYETF Newsletter to receive the Weekly ETF SPY Pick