You might as well call me a broken record. For the last few months, I've continually advised to postpone VIX buying until after July 9. Why July 9?
Allow me to explain by quoting the June 18 Profit Radar Report: "VIX seasonality doesn't bottom until July 9, so it seems too early for a sustainable VIX rally."
The June 6 Profit Radar Report featured the VIX seasonality chart along with this comment: "The VIX seasonality low arrives around July. Forward looking indicators, such as the SKEW and VIX seasonality, suggest that the S&P 500 should soon run into trouble."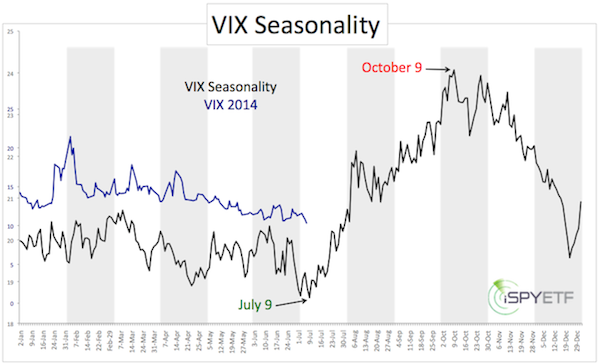 The VIX seasonality chart plots this year's VIX performance against the 'average' VIX performance based on daily closing prices from 1990 to 2013. VIX ETPs like the iPath S&P 500 VIX ETN (NYSEArca: VXX) and ProShares Ultra VIX Short-term ETF (NYSEArca: UVXY) lost between 28 - 78% in 2014.
However, the VIX spiked 32% on Thursday. This is a massive overreaction, considering that the S&P 500 (NYSEArca: SPY) declined only 1.18%.
We've seen similar VIX kneejerk reactions in the past, and they were soon followed by a lower VIX and higher S&P. Will this time be different?
Will the VIX continue to rally and the S&P finally embark on the much advertised correction?
Only if the S&P 500 drops below key support. Thus far the S&P bounced three times from this support, and VIX downside is limited as long as it holds.
Here's a detailed look at this S&P 500 key support level:

Short-term S&P 500 Forecast: S&P Bounces at Support
Simon Maierhofer is the publisher of the Profit Radar Report. The Profit Radar Report presents complex market analysis (S&P 500, Dow Jones, gold, silver, euro and bonds) in an easy format. Technical analysis, sentiment indicators, seasonal patterns and common sense are all wrapped up into two or more easy-to-read weekly updates. All Profit Radar Report recommendations resulted in a 59.51% net gain in 2013.
Follow Simon on Twitter @ iSPYETF or sign up for the FREE iSPYETF Newsletter to get actionable ETF trade ideas delivered for free.