One indicator suggests that stocks are about to bottom, but please don't take this as a buy signal.
Starting with the May 22 reversal day - which painted a huge red reversal candle for the S&P 500, Nasdaq-100, Dow Jones, Russell 2000 etc. – the Profit Radar Report turned bearish.
We sold all our Nasdaq-100 long positions at 3,030 and also issued a signal to go short (for aggressive investors) at 3,030.
Why? The Nasdaq-100 reached the Profit Radar Report's target of 3,050 and seasonality, sentiment and technicals all suggested lower prices and lower prices is what we got.
In fact, the decline has been so pervasive that declining stocks outnumber advancing stocks by a near-record margin.
Wednesday's NYSE decliners outnumbered advancers by a ratio of 4.3:1. Monday's NYSE decliners outnumbered advancers by a ratio of 5.7:1.
The 10-day moving average advance/decline ratio (advancing issues divided by declining issues) has dropped to 0.79.
The chart below plots the S&P 500 against the NYSE advance/decline ratio. Readings around 0.80 have often resulted in a bottom of some sort as the dashed red lines illustrate. Plotting the S&P against the McClellan Oscillator paints a similar picture.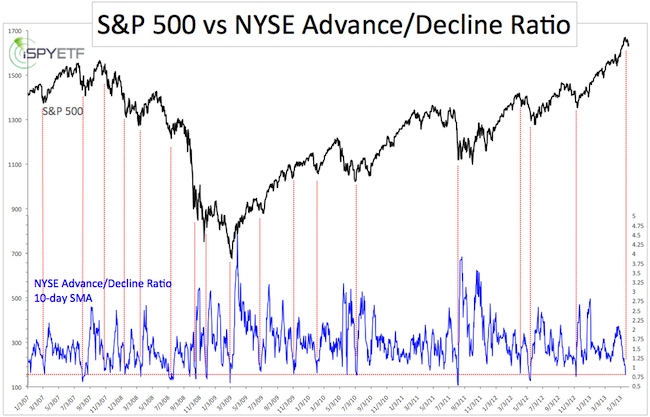 Quite frankly, this indicator is at odds with many others I follow, but it shouldn't be ignored. This doesn't mean that stocks will jump here. It merely shows that there's potential for a rally that lasts more than a couple days.
This is the kind of data I keep in mind when setting a stop-loss level, in this case for our short positions. The first priority is to keep profits and protect capital. A runaway rally – which according to the advance/decline ratio is possible – would be an unwelcome surprise by shorts and needs to be hedged.
The stop-loss level for current short Nasdaq-100 and S&P 500 positions is available via the Profit Radar Report.