The iShares Silver Trust ETF (NYSEArca: SLV) chart is about as ugly as it gets.
From 2011 to present, silver prices have tumbled some 60%. That's already more than the S&P 500 (NYSEArca: SPY) lost during the 'Great Recession.'
The UltraShort Silver ProShares ETF (NYSEArca: ZSL), a leveraged short silver ETF, has doubled since the beginning of the year.
There's light at the end of the tunnel, but silver investors do not appear to have thrown in the towel yet. Typical markets don't bottom until the last towel is thrown in, trampled and abandoned.
The chart below plots the price of silver against the tons of silver held by the SLV silver ETF (based on iShares's data) and SLV trading volume.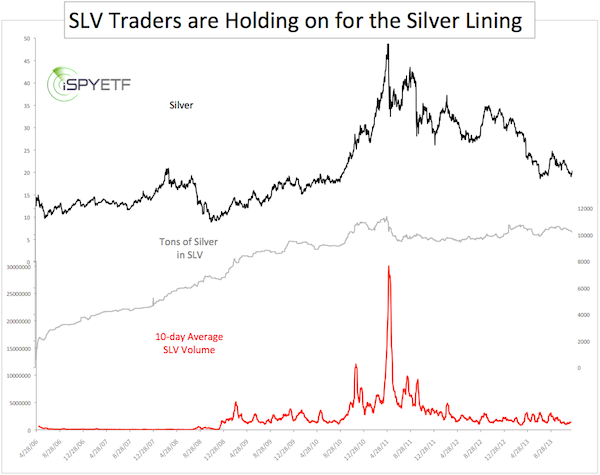 Silver investors must have a cast iron stomach. The amount of silver held by SLV seems nearly immune to the bear market.
The 10-day average of SLV trading volume lacks any hint of panic selling.
A sustainable low remains an illusion as long as weak hands continue to hold silver.
Weak hands are 'on the fence' investors, unconvinced about silver's up side, scared of the down side, and on the fence for now. Once the weak hands have capitulated, silver can break free of its bearish shackles.
As subscribers to my Profit Radar Report know, my down side silver target has been below 20 for well over six months.
The down side target is comprised of various support levels, creating a dense support cluster and probably a good buying opportunity (once we get there). Forgive me for keeping the actual target price exclusive to subscribers of the Profit Radar Report.
How about silver's precious cousin, gold?
A similar analysis of the SPDR Gold Trust (NYSEArca: GLD) actually provides more 'noise' (in a good way) and texture for a better analysis. The GLD analysis is available here: Tell Tale Sign of a Gold Market Low
Simon Maierhofer is the publisher of the Profit Radar Report. The Profit Radar Report presents complex market analysis (stocks, gold, silver, euro and bonds) in an easy format. Technical analysis, sentiment indicators, seasonal patterns and common sense are all wrapped up into two or more easy-to-read weekly updates. We are accountable for our work, because we track every recommendation (see track record below).
Follow Simon on Twitter @ iSPYETF or sign up for the FREE iSPYETF Newsletter to get actionable ETF trade ideas delivered for free.