Wall Street traders returning from lunch saw one of the most pronounced mini flash crashes in history. Within a matter of 4 minutes (between 1:51 - 1:54 pm EST) crude oil prices dropped 3.9%. The day's trading range was 4.9%.
The swings were equally dramatic in oil related ETFs like the United States Oil ETF (USO) and iPath S&P GSCI Crude Oil ETN (OIL). The ripple effects were also felt in the broader PowerShares DB Commodity Index ETF (DBC) and iShares S&P GSCI Commodity Index ETF (GSG).
What caused this mini flash crash and is this a sell signal for oil?
What Caused the Sudden Drop?
Traders, analysts and regulators are still fishing for reasons, but there are only speculations thus far. An incorrectly entered trade ("fat finger error") or rumors of a possible release of oil by the United States strategic reserves are possible suspects.
Is this A sell Signal?
Oil is not one of the asset classes regularly covered by the Profit Radar Report, but we can apply the same technical analysis methods used for the S&P 500, gold, silver, currency and Treasuries to oil.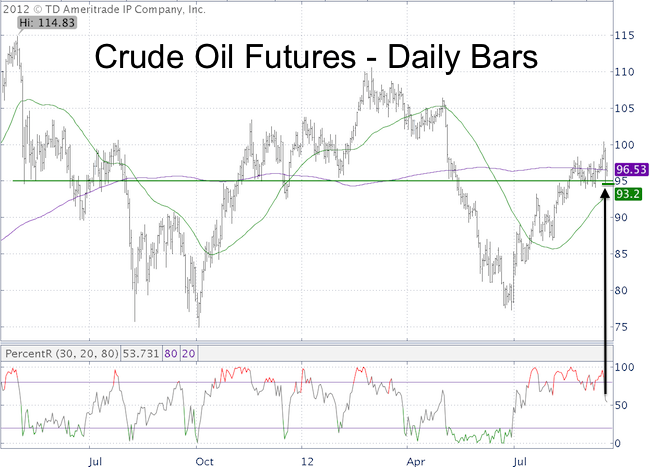 The chart below plots crude oil futures prices against the 20 and 200-day moving average, prior support/resistance levels and a largely unknown but effective indicator called percentR.
We see that Monday's quick dip pulled oil prices briefly below the 20 and 200-day SMA, which converged at around 96.50. Prices found support at 95 (green line), which is an area that buoyed oil prices several times before.
In addition, Monday's drop triggered a bullish percentR low-risk entry. Only a close below 94.65 would negate the bullish low-risk entry.
Obviously, most asset classes are overbought due to last week's Federal Reserve induced price pop and due for a correction. However, as long as oil prices stay above support at 94.65 - 95 any correction will have to wait.