On December 3, the Profit Radar Report took a closer look at the Nasdaq-100 and stated:
"The Nasdaq-100 bars are painting a picture (almost looking like an island reversal) that's similar to prior reversal patterns (see blue circles). This is a potential red flag, but unless support at 4,285 and 4,210 is broken, it's premature to worry."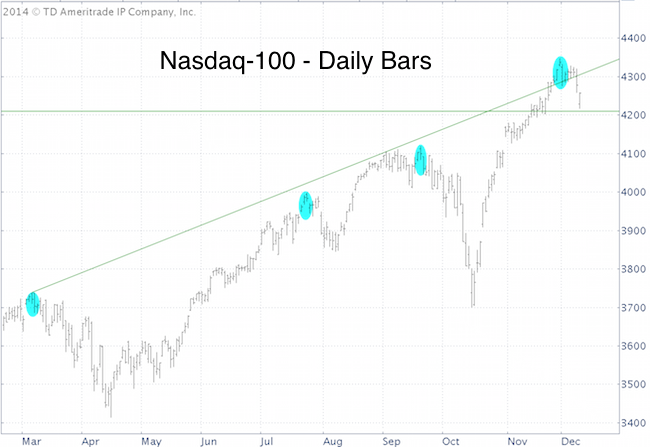 The reversal pattern delivered again, like it did a couple of times earlier this year.
Thus far, the Nasdaq-100 found support at 4,216, so there's no reason to worry.
Support at 4,209 is backed up by 4,180. Only a move below 4,180 may draw trade towards the open chart gaps.
The biggest open chart gap for the QQQ ETF (Nasdaq: QQQ) is at 100.26. We may not get there, but if we were, it likely would be a good buying opportunity. Overall, I expect new highs later this year or early next.
A move above 4,338 would invalidate the island pattern and point higher.
Recent Profit Radar Report analysis for the S&P 500 is available here: S&P 500 Suffers from Lack of Participation
Recent Profit Radar Report analysis for the Dow Jones is available here: Dow Jones Repelled by 12-year 'Insider' Resistance
Simon Maierhofer is the publisher of the Profit Radar Report. The Profit Radar Report presents complex market analysis (S&P 500, Dow Jones, gold, silver, euro and bonds) in an easy format. Technical analysis, sentiment indicators, seasonal patterns and common sense are all wrapped up into two or more easy-to-read weekly updates. All Profit Radar Report recommendations resulted in a 59.51% net gain in 2013.
Follow Simon on Twitter @ iSPYETF to get actionable ETF trade ideas delivered for free.