"Do or die" scenarios don't come around too often, but when they do they deserve our attention and often provide either a low risk or a high probability trading opportunity.
What elevates the current constellation for mid and small cap ETFs from willy nilly to do or die?
There are a number of reasons. The two charts below were originally published in the October 24 Profit Radar Report. The "in a nutshell" conclusion published that day was that: "The stock market is stretched like a rubber band and should bounce back. If it doesn't, it will 'snap'".
Chart 1: S&P MidCap 400 Index
Corresponding ETF: SPDR S&P MidCap 400 ETF (MDY)
The trend line originating at the October 4, 2011 low has provided guidance and support for the S&P MidCap 400 Index. A close below this trend line would be concerning. Additional support is provided by the 200-day SMA at 964.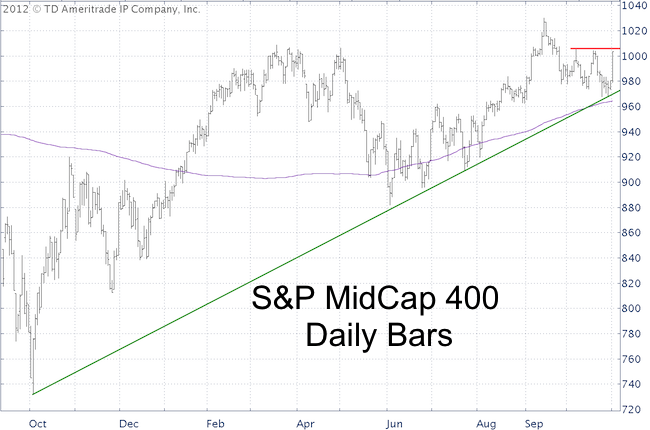 Chart 2: Russell 2000 Index
Corresponding ETF: iShares Russell 2000 Index ETF (IWM)
The interaction between the Russell 2000 and its October 4, 2011 trend line hasn't been as pronounced, but the decline has thus far stalled at trend line support. A close below this trend line would also be concerning. Additional support is provided by the 200-day SMA at 807.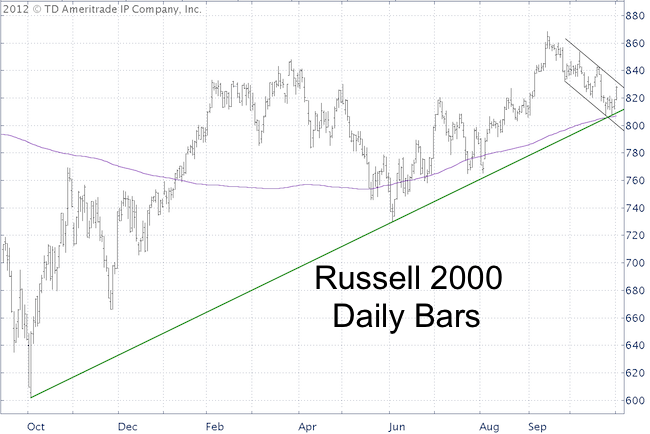 Conclusion
Unbroken longer-term trend lines like the ones mentioned above provide invaluable technical insight, often worth more than insider information.
As long as indexes remain above their respective trend lines - the S&P 500, Dow Jones, Russell 2000, MidCap 400 and many sector ETFs remain above at this time – the benefit of the doubt should be given to rising prices.
In addition to trend line support, the October 25 Profit Radar Report pointed out a buy signal for stocks (given by the VIX) and a bullish price/RSI divergence.
Yesterday's strong rally is running into technical resistance triggered a bearish percentR low risk entry. It remains yet to be seen how long this bounce will last, but trend line support is now our stop-loss level for long positions. The beauty of using a rising trend line as stop-loss for long positions is that it virtually guarantees a winning trade.