The S&P Case/Shiller Composite 20 Home Price Index just saw its sixth consecutive monthly increase (see chart below).
The index is a composite index of the home price index for 20 major metropolitan areas in the US. Many analysts look at the 6-month recovery (short red "tail") and are ready to pronounce a permanent bottom for the housing and real estate market.
Obviously, this would be bullish for the iShares Dow Jones US Real Estate ETF (IYR), SPDR S&P Homebuilders ETF (XHB) ,and the overall real estate sector. But does this recovery have legs?
An Odd but Effective Indicator
It's said that the end justifies the means and that may be the case with the quirky forecasting tool I'm about to introduce. This indicator has to do with lumber prices.
Lumber is a key component for every house and seems to play a role as a leading indicator. It seems that lumber prices tend to rise about a year before the housing sector.
The chart below plots lumber futures against the PHLX Housing Sector (HGX – not an ETF). HGX includes companies like Pulte Group, Standard Pacific, KB Home, DR Horton, Fidelity National Financial, Weyerhaeuser, etc.). I have set the lumber price forward 1 year to capture lumber's leading indicator role.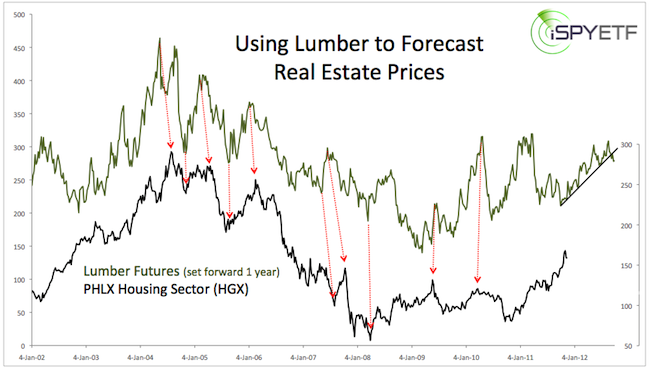 The red arrows show the correlation between major highs and lows. Based on the tilt of the red arrows it might be even more appropriate to increase the lead from 12 to 15 months. Regardless, up until mid-2009 the correlation worked like a charm.
Enjoy it While you Can
Since mid-2009 the gyrations of lumber prices have been more pronounced and less correlated compared to the housing sector. I'm not sure why (massive monetary manipulation by the Fed likely plays a role). Assuming that the directional analogy will continue (or resume), lumber prices suggest that the housing recovery will last into mid-2013.
As of late, lumber prices have fallen through trend line support (black line), which is a bearish development. It will take time to determine just how bearish, but lumber futures suggest more weakness in mid-2013.
A resumption of the housing slump about a year from now would certainly harmonize well with our overall forecast for the stock market.