Anyone wanting to 'massage' data is in heaven right now.
Bulls can point out that retail investors, polled by the American Association for Individual Investors (AAII), are very bearish (bullish for stocks).
Bears can point out that investment advisors and newsletter writers, polled by Investors Intelligence (II), are very bullish (bearish for stocks).
There's a stat for everyone.
In fact, the spread between the AAII and II group is at the top end of its range, and the highest it's been since July 2014.
Perhaps that's the graph we should focus on. The chart below does just that: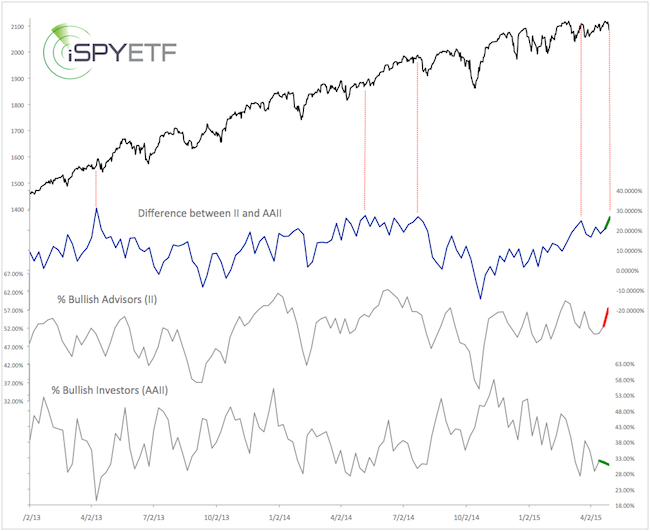 The red lines indicate that extreme viewpoint differences, like we're seeing right now, led to some short-term S&P 500 (NYSEArca: SPY) weakness in the past.
A long-term analysis of the opinion spread is available here: Retail Money is Much More Bearish Than Investment Pros
What's the lesson? Don't trust anyone who says stocks must go up or down, because investor sentiment is bullish/bearish this or that.
Never Miss a Beat! >> Sign up for the FREE iSPYETF e-Newsletter
The fact is, that some of the individual sentiment extremes offset each other.
My March Sentiment Picture (part of the Profit Radar Report), which graphs six different sentiment gauges, concluded that: "There are no real extremes, and sentiment doesn't foreshadow any large and sustainable moves in the immediate future."
The 'immediate future' has come and gone, but the trading range remains.
A comprehensive analysis shows that overall sentiment is currently slightly more bullish than bearish. If I had to illustrate sentiment on a scale from 1 – 10 (10 being most bullish), we'd be at a 6 or 6.5.
Simon Maierhofer is the publisher of the Profit Radar Report. The Profit Radar Report presents complex market analysis (S&P 500, Dow Jones, gold, silver, euro and bonds) in an easy format. Technical analysis, sentiment indicators, seasonal patterns and common sense are all wrapped up into two or more easy-to-read weekly updates. All Profit Radar Report recommendations resulted in a 59.51% net gain in 2013 and 17.59% in 2014.
Follow Simon on Twitter @ iSPYETF or sign up for the FREE iSPYETF Newsletter to get actionable ETF trade ideas delivered for free.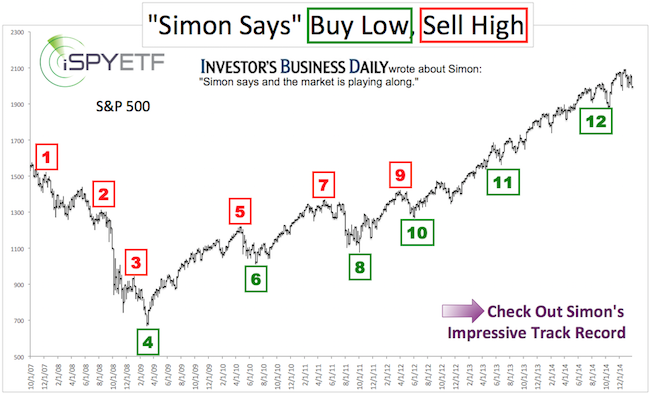 Never Miss a Beat! >> Sign up for the FREE iSPYETF e-Newsletter