The largest gain for home prices in seven years is reason for cheer, but will the trend continue? Is it possible to turn the lagging S&P/Case-Shiller Home Price Index into a leading indicator for the real estate market?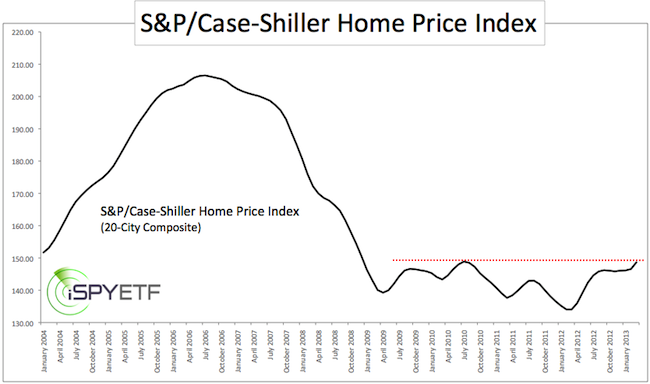 The S&P/Case-Shiller Home Price Index is one of the most popular and most widely accepted gauges for real estate prices, but it is not a leading (as in projecting future prices) indicator.
In fact, the S&P/Case-Shiller Home Price Index is calculated using a three-month moving average (the averaging methodology is used to offset delays that may occur in the flow of sales price data) and is published with a two-month lag.
Today's brand new S&P/Case-Shiller Home Price Index readings covers data from January – March 2013. So data is delayed and represents a snapshot of the past with no influence on future prices. It's a classic lagging index.
How can you turn a lagging index into a leading index?
One method we've used successfully in the past is to 'enhance' the rear-view mirror message of the S&P/Case-Shiller Home Price Index with the predictive qualities of lumber prices.
This is not an exact science, but lumber prices tend to set the rhythm for home prices. This makes sense; after all lumber is the key ingredient for every residence.
Previous analysis of this correlation in October 2012 and March 2013 suggested higher real estate prices.
The chart below plots the price of lumber against the PHLX Housing sector. Lumber prices are set forward by 14-months to express the 'crystal ball-like' properties of lumber.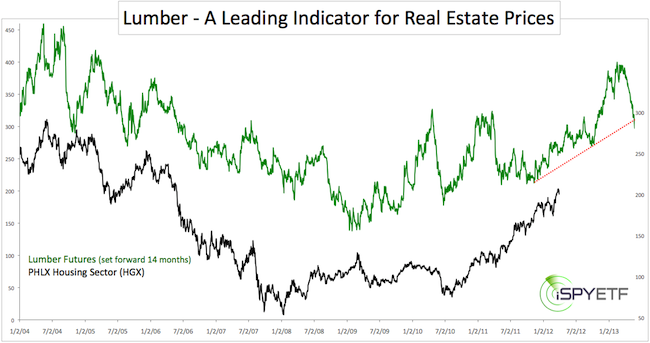 Lumber prices soared 53% from September 2012 to March 2013. The strong real estate performance is therefore no surprise and according to lumber, more gains are ahead for housing.
But over the last two months lumber prices have dropped 32%.
Lumber's wild 53% gain and 32% drop are not yet reflected by the housing sector index.
The correlation between lumber and the housing sector is not perfect, but it should cause some ripples for the housing market soon.
It will be interesting to see if lumber prices peaked for good or just entered a correction. A permanent peak for lumber could translate into a 2014 top for real estate.