If you read my market commentary, you know that I went into 2015 expecting to buy the euro and hold precious metals.
Neither prediction has paned out (thus far), but rather than covering the issue with a veil of silence, I thought you'd appreciate an update.
Gold Rally Cut Short
Early warning signals in January (sentiment, seasonality, Elliott Wave) cautioned that the gold rally may terminate prematurely. Via the January 27 Profit Radar Report, I recommended selling gold positions for gains as high as 13% (see 'Gold Seasonality and Sentiment Turned Frosty' for more details).
Gold may carve out a double bottom and we may get a second bite of the cherry in coming days/weeks.
What about the euro?
We bought the euro on January 23. Ways to play the euro include euro futures, EUR/USD or CurrencyShares Euro ETF (NYSEArca: FXE).
Looking for more stock market analysis? >> Sign up for the FREE iSPYETF e-Newsletter
The euro rally looked promising initially, but failed to summon the momentum needed to break higher.
The February 28 Profit Radar Report warned that: "The euro continues to trade sideways. This is looking more and more like a bearish triangle, which would require a thrust to new lows."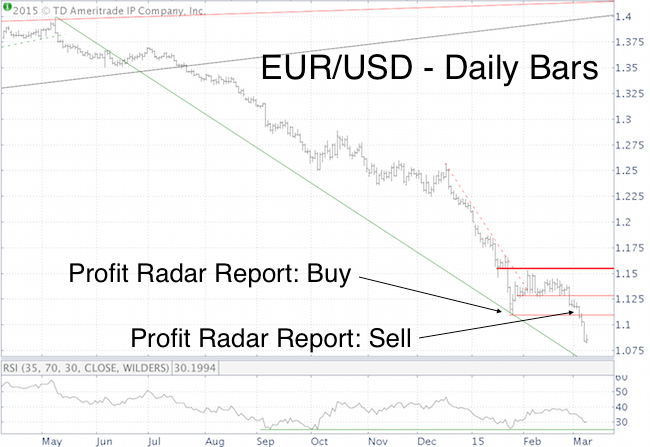 The accompanying recommendation was to either close euro positions at breakeven, or hedge them with the PowerShares DB US Dollar Bullish ETF (NYSEArca: UUP).
I'm not bucking the down trend yet, but still believe that the euro will rally for much of 2015.
If things go 'according to plan,' the euro should find support around 1.07 – 1.05 (watch the green support line) and rally from there. A new RSI low (lower panel) would alter this expectation.
In summary, although the euro rally did not materialize (yet), we exited the January trade without damage, and we were actually able to grab some nice profits from the gold trade. The renewed selloffs should offer another buying opportunity soon.
Simon Maierhofer is the publisher of the Profit Radar Report. The Profit Radar Report presents complex market analysis (S&P 500, Dow Jones, gold, silver, euro and bonds) in an easy format. Technical analysis, sentiment indicators, seasonal patterns and common sense are all wrapped up into two or more easy-to-read weekly updates. All Profit Radar Report recommendations resulted in a 59.51% net gain in 2013 and 17.59% in 2014.
Follow Simon on Twitter @ iSPYETF or sign up for the FREE iSPYETF Newsletter to get actionable ETF trade ideas delivered for free.