As far as indicators go, gold seasonality has been on fire.
Gold seasonality projected a top in late January. The January 25 Profit Radar Report warned that: "Gold seasonality is starting to turn sour."
From January 22 – July 24, gold prices tumbled 17.8%.
The July 19 Profit Radar Report pointed out that: "Seasonality will turn strongly bullish in early August."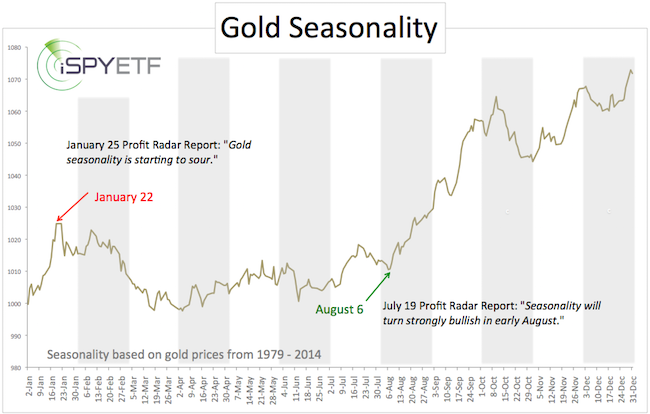 Gold and gold ETFs already soared 6.9% since the August 6 seasonal gold low.
If you enjoy quality, hand-crafted research, >> Sign up for the FREE iSPYETF Newsletter
The gold seasonality chart projects further gold gains until early October. This, by the way, does not mean that there won't be any pullbacks.
Meticulously hand-crafted seasonality charts for all major asset classes are available to subscribers of the Profit Radar Report.
Gold seasonality is only one indicator, but it wasn't the only indicator suggesting a gold rally. The July 21 article "Gold Looks so Bad, it Might Actually be Good" highlights 3 bullish gold development.
Technical analysis also suggested that a tradable bottom was formed on July 24.
The July 26 Profit Radar Report published the chart below (including the yellow projection) and stated the following: "The daily bar chart shows a bullish reversal candle at Friday's low. Friday's intraday reversal satisfies the basic requirements for a tradeable low. As long as Friday's low (1,075.60) holds, odds favor higher prices with a target above 1,300. We will buy a small amount of gold on a move above 1,100. The equivalent level for SPDR Gold Trust (NYSEArca: GLD is around 105.50."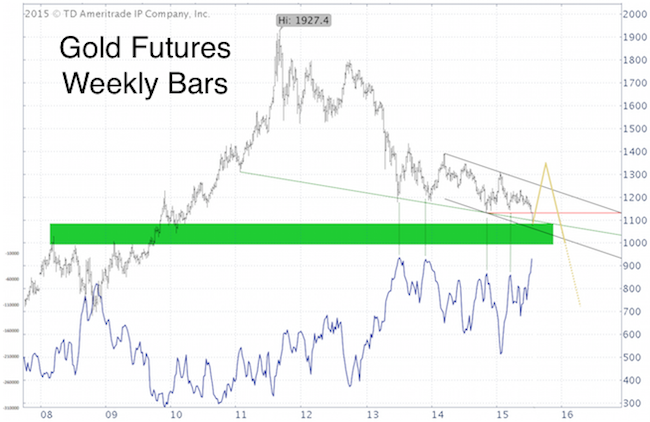 Simon Maierhofer is the publisher of the Profit Radar Report. The Profit Radar Report presents complex market analysis (S&P 500, Dow Jones, gold, silver, euro and bonds) in an easy format. Technical analysis, sentiment indicators, seasonal patterns and common sense are all wrapped up into two or more easy-to-read weekly updates. All Profit Radar Report recommendations resulted in a 59.51% net gain in 2013 and 17.59% in 2014.
Follow Simon on Twitter @ iSPYETF or sign up for the FREE iSPYETF Newsletter to get actionable ETF trade ideas delivered for free.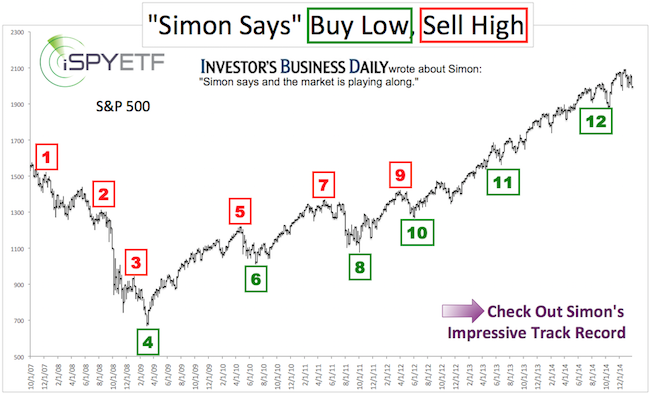 If you enjoy quality, hand-crafted research, >> Sign up for the FREE iSPYETF Newsletter