18,003.88 looks like an unassuming number, but it has some significance for investors, especially for those holding the Dow Jones SPDR ETF (NYSEArca: DIA).
Although it is close to round number resistance, 18,003.88 is only known to support/resistance connoisseurs.
It is a Dow Jones Fibonacci projection level that goes all the way back to 2002. I mentioned in Sunday's Profit Radar Report that: "The Dow Jones nearly tagged resistance at 18,004, increasing the chances of a temporary pullback."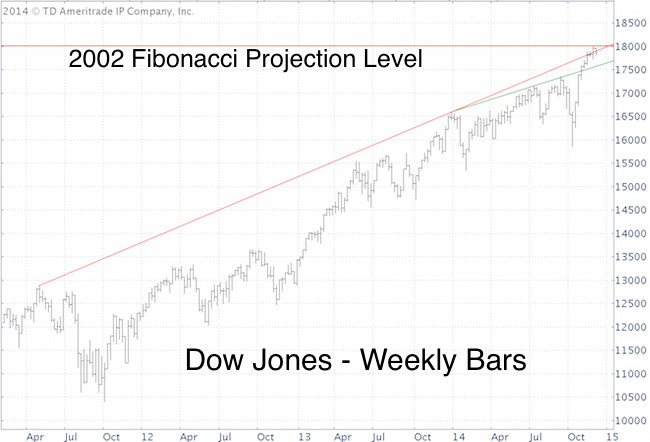 As important as this Fibonacci resistance may be, the weight of evidence suggests only a temporary pullback. The green line shows one possible down side target, but pullbacks in 2013 and 2014 did not always correlate to obvious support/resistance levels.
Long story short, the pullback is likely to morph into a buying opportunity.
Recent Profit Radar Report analysis for the S&P 500 is available here: S&P 500 Suffers from Lack of Participation
Recent Profit Radar Report analysis for the Nasdaq-100 is available here: Nasdaq-100 'Stuck on an Island'
Simon Maierhofer is the publisher of the Profit Radar Report. The Profit Radar Report presents complex market analysis (S&P 500, Dow Jones, gold, silver, euro and bonds) in an easy format. Technical analysis, sentiment indicators, seasonal patterns and common sense are all wrapped up into two or more easy-to-read weekly updates. All Profit Radar Report recommendations resulted in a 59.51% net gain in 2013.
Follow Simon on Twitter @ iSPYETF to get actionable ETF trade ideas delivered for free.