On July 31, 2014, the VIX soared 28% when the S&P 500 dropped 2.03%.

On January 24, 2014, the VIX soared 32% when the S&P 500 dropped 2.07%

On June 20, 2013, the VIX soared 23% when the S&P 500 dropped 2.5%.

On February 25, 2013, the VIX soared 34% when the S&P 500 dropped 1.85%.
Since the beginning of this week the S&P 500 has lost as much as 2.6%, but the VIX gained no more than 12.5%.
Compared to prior declines, this week's pullback has been calm, orderly and void of panic.
It may be counter intuitive, but calm and orderly selloffs generally bring more down side risk than a panic decline.
Small VIX Gains = Bigger S&P 500 Losses
When investors panic, they sell. When the weak hands are gone, the strong hands take over and drive the market back up. As the chart below shows, the S&P 500 (NYSEArca: SPY) down side following panic VIX spikes was limited to 1%.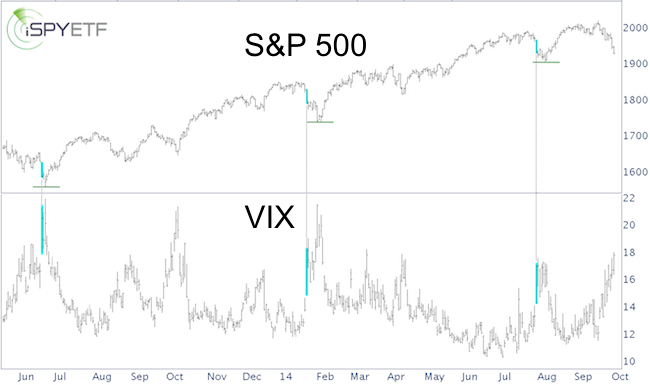 The March 14, 2013 Profit Radar Report highlighted the propensity for kneejerk reactions and observed:
"Investors have become very suspicious and finicky. The smallest decline can cause extreme mood swings accompanied by almost instant bearish extremes. For example, the late February correction caused 30%+ one-day VIX spikes. This resulted in VIX sell signals and buoyed stocks. The propensity for investors to turn instantly bearish is likely to keep sell offs contained in the foreseeable future."
The 'Sneaky' Selloff
Most of the tiny corrections we saw in 2013/14 caused an inappropriately large VIX (NYSEArca: VXX) spike.
When the market is able to drift lower without causing real fear (like this week), sellers are lured into a false sense of security. You can't protect yourself against a danger you aren't aware of.
Complex Analysis Made Easy - Sign Up for the FREE iSPYETF E-Newsletter
This 'ignorance is bliss' kind of sentiment is dangerous, because it strings potential sellers along. They sell later rather than sooner and thereby allow stocks to drift lower in a stair-step decline.
Despite the absence of panic, we need to note two short-term bullish developments:
The VIX reached 18, which marked VIX highs in March, April and August

The Dow Jones is near must hold support
This support, and why it is truly crucial, is outlined here: Dow Jones Completes Bearish Wedge
Simon Maierhofer is the publisher of the Profit Radar Report. The Profit Radar Report presents complex market analysis (S&P 500, Dow Jones, gold, silver, euro and bonds) in an easy format. Technical analysis, sentiment indicators, seasonal patterns and common sense are all wrapped up into two or more easy-to-read weekly updates. All Profit Radar Report recommendations resulted in a 59.51% net gain in 2013.
Follow Simon on Twitter @ iSPYETF or sign up for the FREE iSPYETF Newsletter to get actionable ETF trade ideas delivered for free.