Jeff Bezos, Amazon's founder, is an incredible visionary.
Amazon.com Inc (Nasdaq:AMZN) operates on razor thin profit margins, so investors buying AMZN invest in Bezos' vision, not a cash cow.
A look at AMZN's chart (up until January 22) shows that Bezos' vision trades at a premium. That premium made Amazon the fourth biggest component of the Nasdaq-100 and Nasdaq QQQ ETF (Nasdaq: QQQ).
Amazon also ranks #21 on the list of S&P 500 and SPDR S&P 500 ETF (NYSEArca: SPY) components.
The January 5 Profit Radar Report featured this little piece of financial trivia:
"Which high-flying tech leader has a P/E ratio of 1,403? Tip: This stock is the fourth biggest component of the Nasdaq-100. Answer: Amazon (AMZN). Amazon founder Jeff Bezos is a true visionary and Amazon is working on amazing technology, but ultimately earnings are more important than pure vision."
Featured along with the trivia was the first chart below and this warning:
"Near-term support is around 380. A close below 380 would open the door for much lower targets."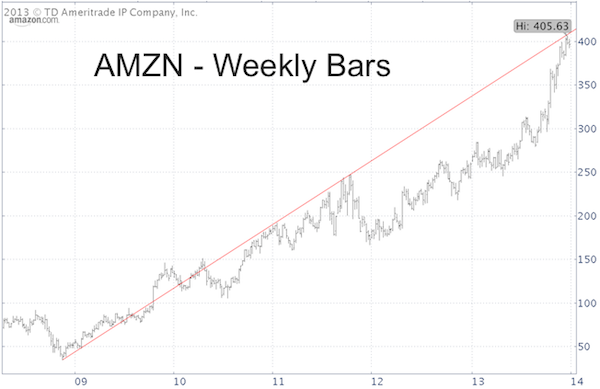 I'd like to point out that the Profit Radar Report doesn't customarily feature single stock analysis (most analysis is based on the S&P 500), but every once in a while it looks at stocks too 'bubbleicious' to ignore.
Those stocks included Apple (September 12, 2012 Profit Radar Report) and Tesla (August 31, 2013 Profit Radar Report) and now Amazon (and one other high-flying stock).
The second chart zooms in on Amazon's more recent performance.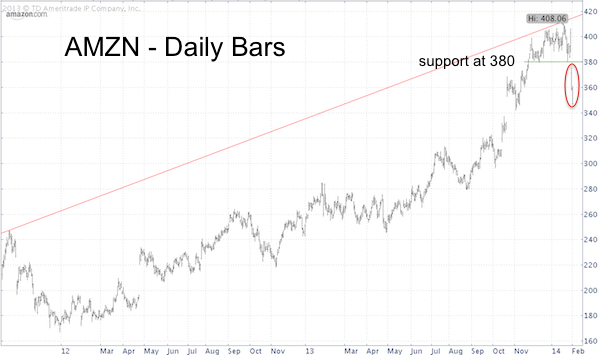 AMZN gapped below 380 last Friday and lost as much as 15% since January 22.
Based on Amazon's sky-high P/E ratio, the down side risk is quite enormous. The key level for Amazon shorts is 380.
The Profit Radar Report identified one other high-flying tech name that looks too 'bubbleicious' to ignore. Unlike AMZN, it still trades within a few percent of its all-time high. It also just reached its up side target and sports a lot of down side risk.
Sunday's special edition of the Profit Radar Report profiled this short-term trade along with a longer-term forecast for the S&P 500 (PS: If you are thinking about signing up for the Profit Radar Report, keep in mind that it is not a stock picking service).
Why is a larger correction for AMZN and the S&P 500 likely? 3 Reasons Why a Larger Correction is Likely
Simon Maierhofer is the publisher of the Profit Radar Report. The Profit Radar Report presents complex market analysis (S&P 500, Dow Jones, gold, silver, euro and bonds) in an easy format. Technical analysis, sentiment indicators, seasonal patterns and common sense are all wrapped up into two or more easy-to-read weekly updates. All Profit Radar Report recommendations resulted in a 59.51% net gain in 2013.
Follow Simon on Twitter @ iSPYETF or sign up for the FREE iSPYETF Newsletter to get actionable ETF trade ideas delivered for free.