How fast things can change. Up until yesterday the stock market was rocking investors asleep with its range-bound trading lullaby.
Range-bound trading is boring and to some extend frustrating, but even range-bound markets send messages.
One of the messages sent by the S&P 500 (NYSEArca: SPY) early this week was that trade can't afford to drop below key support.
The August 13 Profit Radar Report highlighted key support at 1,681 and predicted that: "Every stuck market unravels eventually. We'll go short on a move below 1,681" (a chart illustrating key support was featured in this article: "The S&P 500 is Revealing Must Hold Support"). A nice setup for the UltraShort S&P 500 ProShares (NYSEArca: SDS).
The S&P 500 (SNP: GSPC) chart below shows a) why this support was so important and b) how stocks reacted to it.
There was a convergence of various trend lines along with the neckline of a possible head-and shoulders top.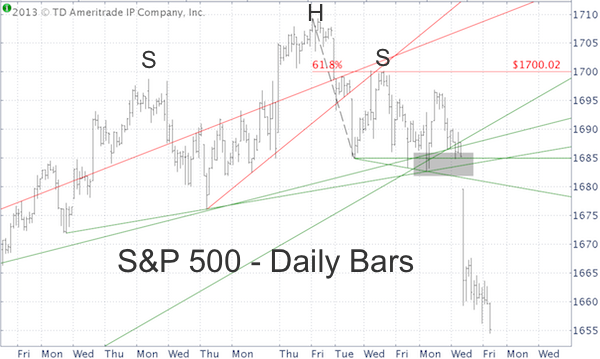 It appears that the S&P 500 (NYSEArca: IVV) considered this support so important, that the only way to overcome it was to completely bypass support via an overnight sell off and gap down open.
As a side effect, the gap down open trapped a lot of bulls with losing positions. That's why I declared 1,681 – 1,709 a trade neutral zone. Don't bet if the odds aren't in your favor.
As the August 15 Profit Radar Report mentioned, the measured target for a head-and shoulders bottom is right around 1,650.
With the S&P 500 almost at the 1,650 target, we wonder if the decline will stop there.
As previously mentioned, I think there is a greater than 50% chance that the stock market is carving out a major top (yes, despite QE).
Thursday's sell off could be the beginning of a long correction, but there is one compelling reason why new highs are still likely. Since key support has now become resistance, it will take a move above resistance to signal higher prices.
The Profit Radar Report discussed the forces that should pull prices higher along with the next must hold support level.
Simon Maierhofer is the publisher of the Profit Radar Report.
Follow Simon on Twitter @ iSPYETF.