It's been a little while since we looked at the Financial Select Sector SPDR (XLF). The March 15, Weekly ETF SPY featured a long-term chart of XLF that showed a broad support/resistance range.
The daily XLF chart below includes the same support/resistance range (red bar). This range halted the XLF rally in March and April 2013 and proved support for the recent correction.
The fact that XLF didn't drop below the 'red box' was one of the reasons I didn't trust the latest correction. XLF found support where it should have.
As of today, XLF is just ticks away from eclipsing its May 22 high. A spike above would result in the highest reading since September 2008, 48 months ago.
Once the May 22 hurdle is cleared, there is no real resistance until the 50% Fibonacci retracement of the points lost from May 2007 to March 2009 at 22.
What is worrisome and can be indicative of a 'last hurrah rally' is the significant lag of RSI since its high watermark in September 2012 (red dot).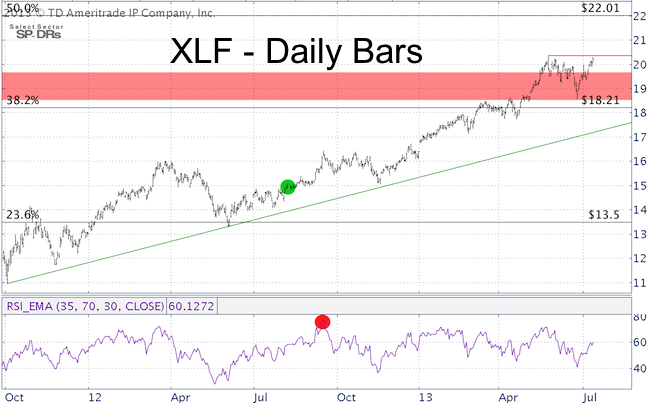 The last leg of the big XLF rally started when sentiment surrounding the financial sector reached a significant low (green dot). At that time, on August 5, 2013, the Profit Radar Report wrote:
"Financials account for 14.21% of the S&P 500, which makes them the second biggest sector of the S&P 500 (behind technology) and worth a closer look. The SPDR Financial Sector ETF (XLF) is butting up against minor trend line resistance at 14.90 and the previous June/July highs at 14.85.
Financials are currently under loved (who can blame investors). Of the $900 million invested in Rydex sector funds, only $18 million (2%) are allocated to financials.
With such negative sentiment a technical breakout (close above 14.90) could cause a quick spike in prices."
A similar bullish sentiment extreme would be a welcome tell tale for a future selling opportunity. Perhaps we'll see that closer to 22.
>> Sign up for the FREE ETF NEWSLETTER and get the ETF SPY delivered to you.