For the third time in 2016, the US Dollar and US Dollar Index Futures are above 100, and the PowerShares DB Bullish US Dollar ETF (UUP) is near 26.
How big is the risk of a triple top?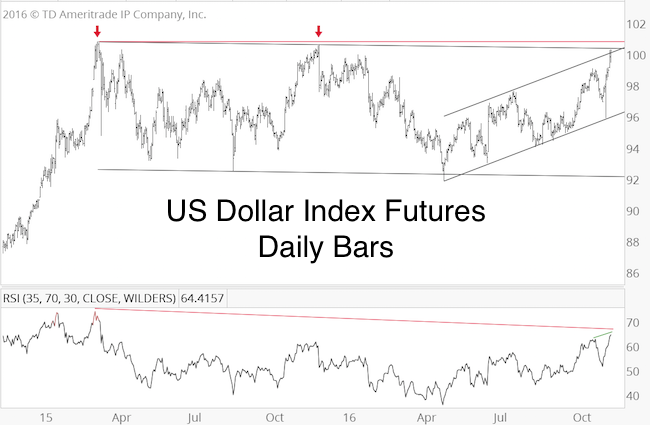 The latest US Dollar rally is in harmony with the US Dollar projection (chart below) and US Dollar forecast published in the May 15, 2016 Profit Radar Report: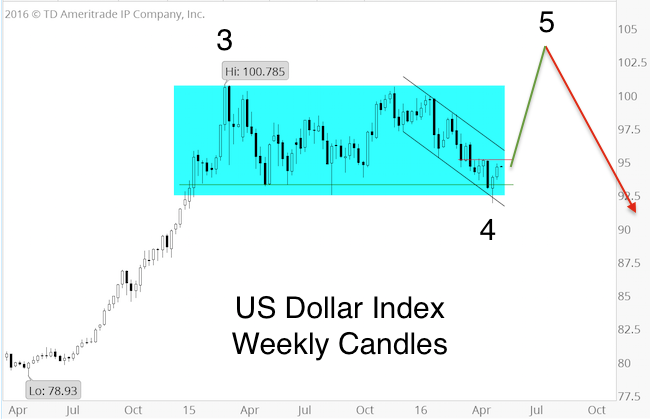 "Based on Elliott Wave Theory, the strong rally from May 2014 – March 2015 looks like a wave 3. The trading range since then looks like a wave 4. Upon completion of wave 4, we anticipate a wave 5 rally to new highs. The rally to new highs may well be more choppy (at least initially) than projected."
Barron's rates iSPYETF as "trader with a good track record" and Investor's Bussines Daily says "When Simon says, the market listens." Find out why Barron's and IBD endorse Simon Maierhofer's Profit Radar Report.
The US Dollar has now come within tics of new recovery highs.
There are various resistance levels at 100 – 101 along with a longer-term RSI divergence. Short-term, RSI confirmed the recent price high.
If you enjoy quality, hand-crafted research, >> Sign up for the FREE iSPYETF Newsletter
In terms of seasonality, late November/December is one of the most bearish times of the year.
As illustrated by the original projection, this rally is a fifth wave. This means that the end of this rally will be followed by a sizeable correction.
Although the US Dollar may have further up side, risk is rising.
Continuous updates for the US Dollar, EUR/USD, stocks, gold, silver and other asset classes or sectors is available via the Profit Radar Report.
Simon Maierhofer is the founder of iSPYETF and the publisher of the Profit Radar Report. Barron's rated iSPYETF as a "trader with a good track record" (click here for Barron's profile of the Profit Radar Report). The Profit Radar Report presents complex market analysis (S&P 500, Dow Jones, gold, silver, euro and bonds) in an easy format. Technical analysis, sentiment indicators, seasonal patterns and common sense are all wrapped up into two or more easy-to-read weekly updates. All Profit Radar Report recommendations resulted in a 59.51% net gain in 2013, 17.59% in 2014, and 24.52% in 2015.
Follow Simon on Twitter @ iSPYETF or sign up for the FREE iSPYETF Newsletter to get actionable ETF trade ideas delivered for free.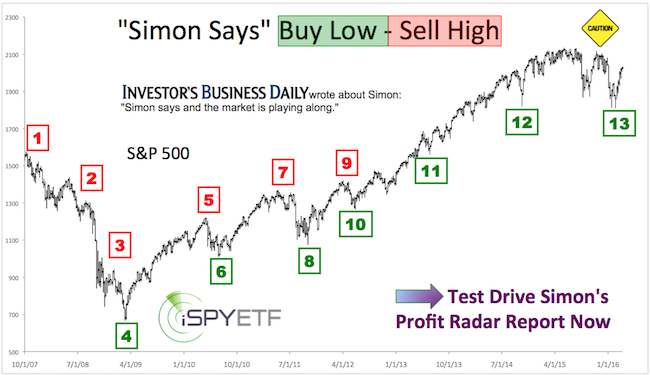 If you enjoy quality, hand-crafted research, >> Sign up for the FREE iSPYETF Newsletter