The Dow Jones Industrial Average (DJIA) is at all-time highs, while the Dow Jones Transportation Average (DJT) just lost 6.6% and briefly dipped below its 200-day SMA.
The July 16 Profit Radar Report featured the follow DJT chart and commentary:
"The Dow Jones Transportation Average (DJT) just recently confirmed the new DJIA highs. According to Dow Theory, its good news when industrials (DJIA) and transports (DJT) fire on all cylinders (because goods produced by factories are moving off the shelves instead of accumulating as inventory).
However, the chart for DJT is looking dangerous. Fibonacci resistance (going back to 2002) is at 9,951, the center line of trend channel resistance is at 9,850, the rally since the May low is looking like a (eventually) bearish rising wedge, there is a glaring bearish RSI divergence, and it is possible to count a complete 5-wave move according to Elliott Wave Theory.
DJT 10,000 is about 2.5% away, and the odds of DJT running into serious trouble between now and 10,000 are highly elevated.
It is quite possible (even likely) that the DJT will start to head lower in the coming weeks/month while the DJIA will set a new high later on in 2017, setting up a bearish divergence between the DJIA and DJT."
Barron's rates iSPYETF as "trader with a good track record" and Investor's Bussines Daily says "When Simon says, the market listens." Find out why Barron's and IBD endorse Simon Maierhofer's Profit Radar Report.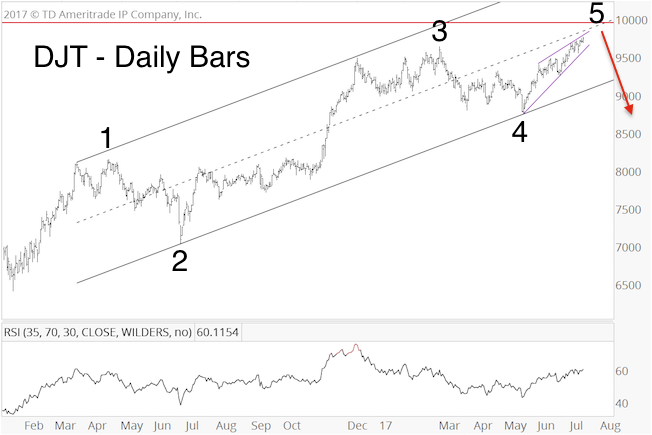 Below is an updated version of the same chart.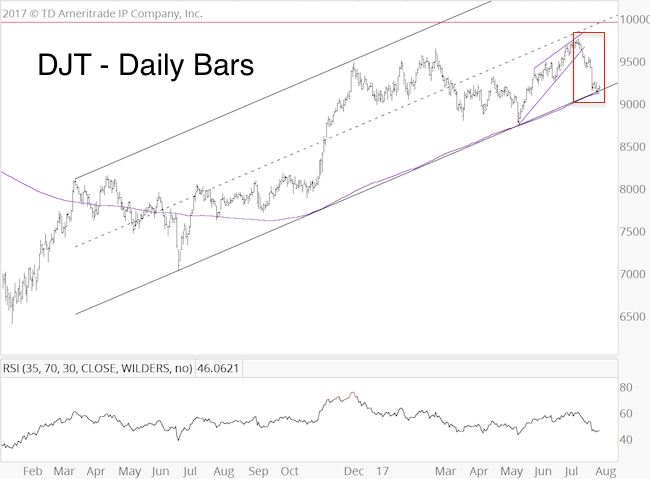 The DJT is now at trend channel support (and the 200-day SMA). In addition, the decline appears to have unfolded in 5 waves. This means:
1) A bounce is next
2) The bounce will be followed by further losses
If you enjoy quality, hand-crafted research, >> Sign up for the FREE iSPYETF Newsletter
Fast-forwarding to late 2017 or early 2018, any new DJIA all-time highs are unlikely to be confirmed by DJT, setting up a bearish Dow Theory divergence.
The iShares Transportation Average ETF (IYT) is the only ETF linked to the DJT. There is no short DJT ETF. IYT put options are one of few ways to bet on a falling DJT (once this bounce is complete).
Continued stock market analysis along with up-and down side targets and trading recommendations are available via the Profit Radar Report.
Simon Maierhofer is the founder of iSPYETF and the publisher of the Profit Radar Report. Barron's rated iSPYETF as a "trader with a good track record" (click here for Barron's profile of the Profit Radar Report). The Profit Radar Report presents complex market analysis (S&P 500, Dow Jones, gold, silver, euro and bonds) in an easy format. Technical analysis, sentiment indicators, seasonal patterns and common sense are all wrapped up into two or more easy-to-read weekly updates. All Profit Radar Report recommendations resulted in a 59.51% net gain in 2013, 17.59% in 2014, and 24.52% in 2015.
Follow Simon on Twitter @ iSPYETF or sign up for the FREE iSPYETF Newsletter to get actionable ETF trade ideas delivered for free.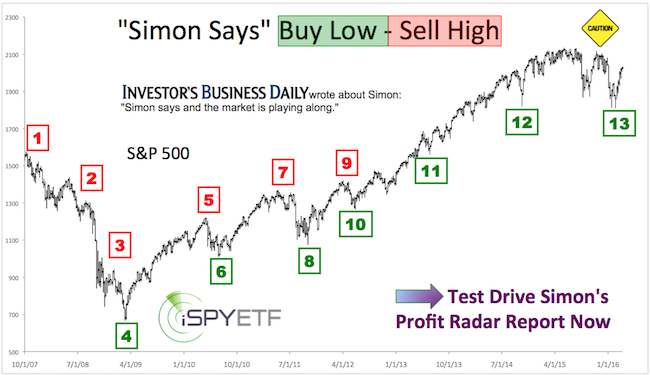 If you enjoy quality, hand-crafted research, >> Sign up for the FREE iSPYETF Newsletter