Subscribers to iSPYETF's free e-mail newsletter receive a market outlook, usually once a week. The market outlook below was sent out on May 13. If you'd like to sign up for the free e-newsletter, you may do so here (we will never share your e-mail with anyone, just as we don't accept advertising).
Based on the Risk/Reward Heat Map, May was likely to bring increased risk. The May 3 Profit Radar Report warned that: "May continues to be a pressure point, resistance in terms of time."
If you're not yet familiar with the Risk/Reward Heat Map, the chart below highlights its merits.
The red/green/yellow columns at the bottom project either risk/reward/caution.
Right after I first created the Risk/Reward Heat Map in December 2019, it showed immense risk for January/February/March 2020 followed by significant reward starting in April 2020.
Ever since April 2020, stocks have only paused during periods of caution. A ton of work (currently 613 different studies) goes into the Risk/Reward Heat Map. How it is compiled and how it works is explained here.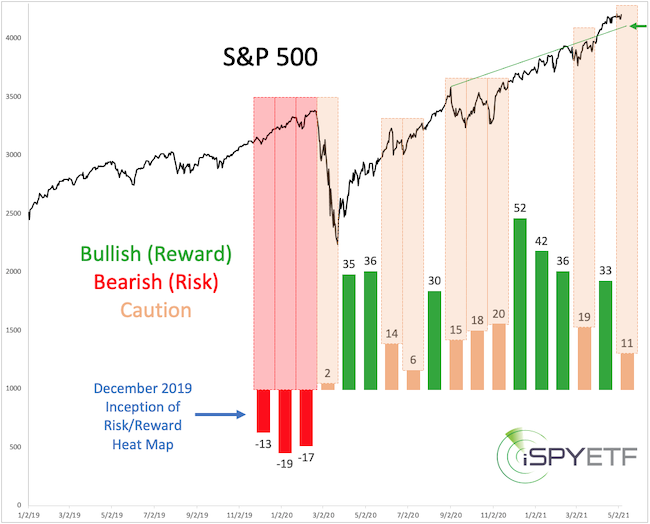 Within 3 days of last Friday's all-time high, the S&P 500 has dropped to a 1-month low. Since 1970, this happened only 8 other times. The chart below highlights when.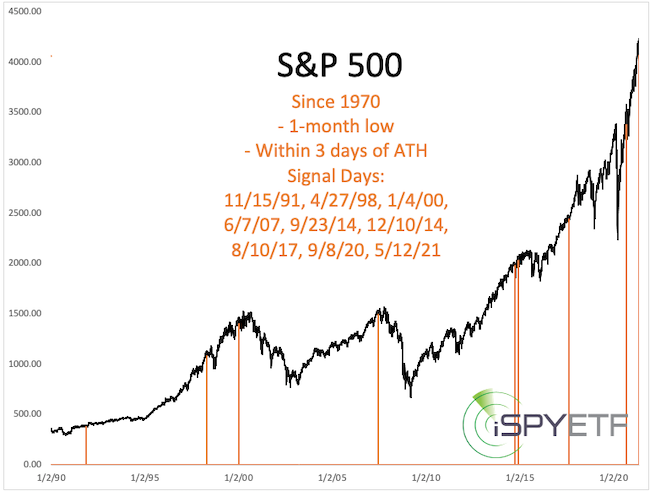 In terms of price action, there's little technical damage thus far for the S&P 500. The futures chart shows that price tagged double support yesterday.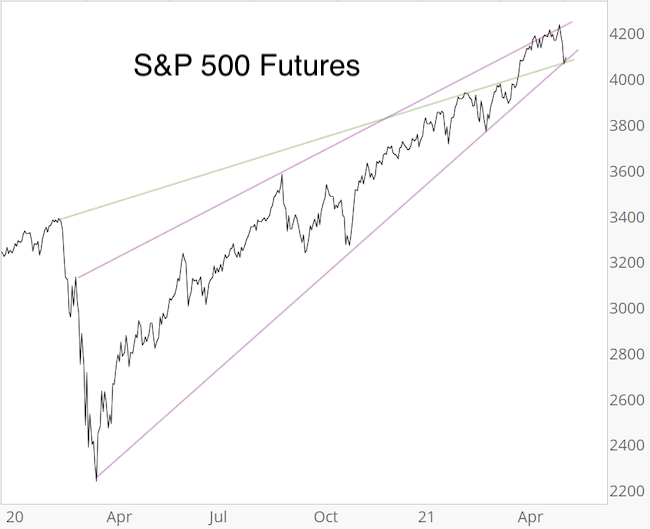 In the past, the S&P may have pierced below support briefly but quickly jumped back above, so a close below support for more than a day or two is needed to get lower targets.
The Risk/Reward Heat Map suggests there's a good chance this can happen, but it's prudent to wait for confirmation.
Continued updates (including the Risk/Reward Heat Map) and factual out-of-the box analysis are available via the Profit Radar Report.
The Profit Radar Report comes with a 30-day money back guarantee, but fair warning: 90% of users stay on beyond 30 days.
Barron's rates iSPYETF a "trader with a good track record," and Investor's Business Daily writes "Simon says and the market is playing along."