Subscribers to iSPYETF's free e-mail newsletter receive a market outlook, usually once a week. The market outlook below was sent out on February 3, 2022. If you'd like to sign up for the free e-newsletter, you may do so here (we will never share your e-mail with anyone, just as we don't accept advertising).
The January 19 Profit Radar Report gave a down side target of 4,300, which was reached and slightly exceeded on January 24.
The decline into the January 24 low looks like a 3 wave affair. As mentioned in last week's Free Market Outlook, I thought the decline would turn into 5 waves, but it hasn't.
In fact, price overlapped the January 10 low (wave 1). In a standard 5-wave decline, wave 4 is not allowed to exceed wave 1 (an explanation of Elliott Wave Theory is available here).
There are other, more messy, patterns that allow for a continuous decline (such as the expanding diagonal outlined in purple below), but a 3-wave move into a low can also mean this leg of the correction is over.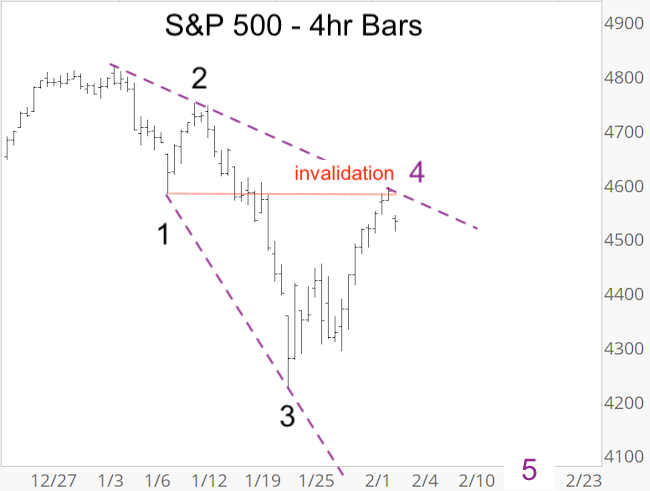 The QQQ chart below, featured in the January 26 Profit Radar Report, highlighted support and the odds of a bounce. QQQ bounced as much as 10% from the low, but this doesn't change the fact that QQQ dropped almost 17% over the prior month.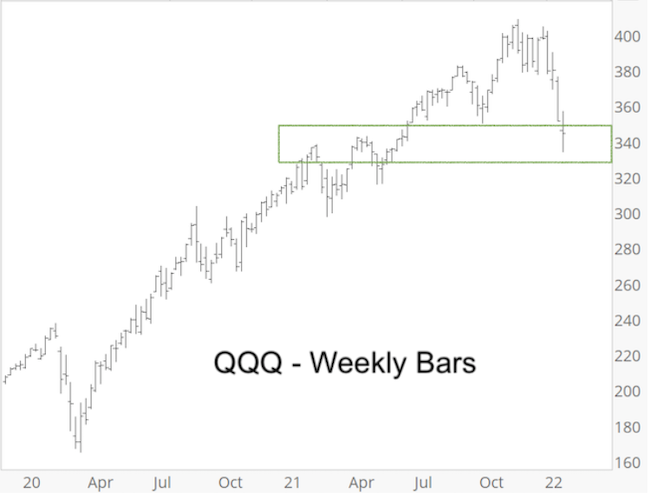 This sounds scary, but quick tumbles like that happened before.
Are they a sign of selling exhaustion or do they usually trigger bear markets?
To find out, I identified the time periods that most closely correlate to the Nasdaq-100 price pattern over the past 6 months (which includes the last leg up and subsequent selloff).
I limited the precedents to 10 and calculated the forward returns for the next 1, 2, 3, 6, 9 and 12 months (as usually).
A common theme emerged and the results were quite surprising. The entire study was published in the January 30, 2022 Profit Radar Report.
Continuous updates, the results of the Nasdaq study and out-of-the box technical and historical analysis is available via the Profit Radar Report.
The Profit Radar Report comes with a 30-day money back guarantee, but fair warning: 90% of users stay on beyond 30 days.
Barron's rates iSPYETF a "trader with a good track record," and Investor's Business Daily writes "Simon says and the market is playing along."