While watching tennis on April 17, I caught a 'too good to be true moment.' What was it? A Coinbase commercial. The commercial included the price history and an actual projection (of course much higher) of Bitcoin. Frankly, I couldn't even believe this was legal, because the commercial showed Bitcoin soaring from 58,000 to infinity.
I took a picture of my TV screen and commented on it in the Profit Radar Report (you can watch the full commercial here, the projection to infinity is shown at second 16).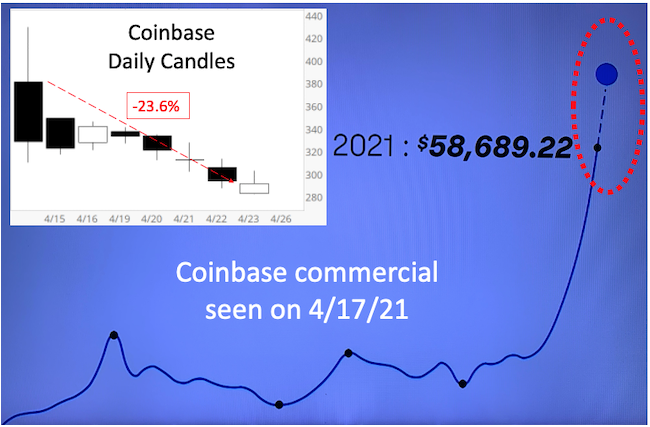 Here is what I wrote about that in the April 25 Profit Radar Report:
Barron's rates iSPYETF as "trader with a good track record" and Investor's Business Daily says: "When Simon says, the market listens." Find out why Barron's and IBD endorse Simon Maierhofer's Profit Radar Report
"What captured my attention is that the commercial actually projected the price of bitcoin going through the roof, which of course activated my contrarian antennae. The chart insert shows the price of Coinbase since going public (down 23.6%).
Short-term, Bitcoin Futures are at support (around 47,500) with RSI-2 over-sold. This support may spark a bounce and a drop below support is needed for lower price targets."
The chart below shows that Bitcoin first bounced from support but eventually that support failed and led to much lower prices. One down side target was the 161.8% Fibonacci extension at 30,574, which was reached on May 19.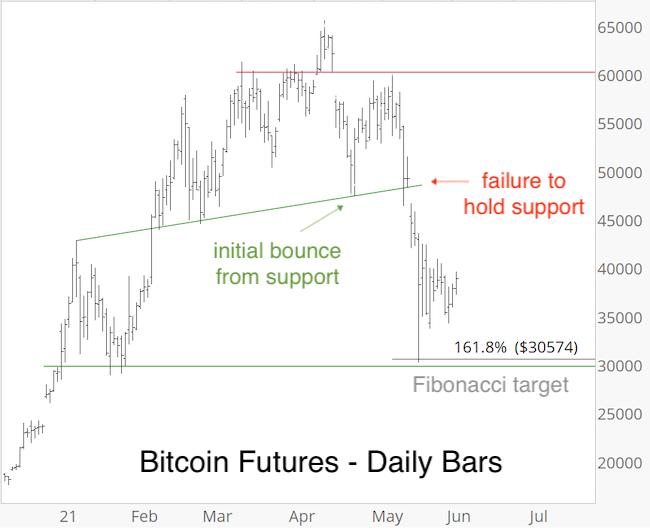 As Bitcoin dove towards 30,000, it also fell more than 50% below its 50-day SMA, which doesn't happen often.
The orange lines below highlight other times Bitcoin traded more than 50% below its 50-day SMA. This kind of 'oversoldness' always led to a rally, although In 2018 that rally was brief.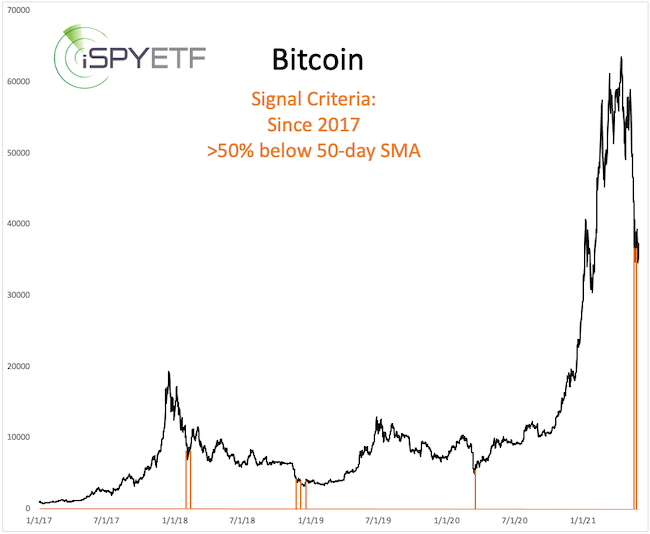 In Summary, there was extreme Bitcoin euphoria around 60,000 and a possible 'washout' event around 30,000. It's quite possible that price will trade in that range for a while as emotions recalibrate.
BITCOIN UPDATE PUBLISHED IN THE JUNE 6, 2021 PROFIT RADAR REPORT:
"Since falling as low as 30,205 on May 19, Bitcoin Futures have consolidated in a triangle-shaped pattern. Triangles commonly occur in the wave 4 position, which would fit in the larger context. A break below 33,700 would be the first step towards confirming a move lower, which would eventually turn into a buying opportunity. A break above triangle resistance could, however, lock in a 3-wave move from the high and suggest a rally sooner rather than later."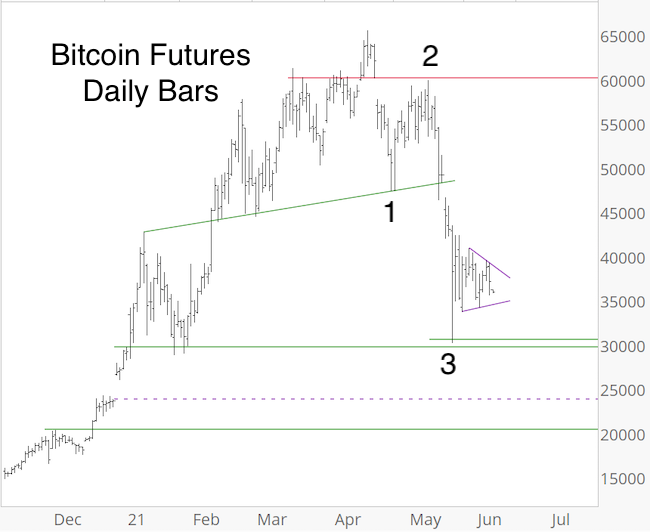 Continuous updates are available via the Profit Radar Report.
Simon Maierhofer is the founder of iSPYETF and the publisher of the Profit Radar Report. Barron's rated iSPYETF as a "trader with a good track record" (click here for Barron's evaluation of the Profit Radar Report). The Profit Radar Report presents complex market analysis (S&P 500, Dow Jones, gold, silver, euro and bonds) in an easy format. Technical analysis, sentiment indicators, seasonal patterns and common sense are all wrapped up into two or more easy-to-read weekly updates.
Follow Simon on Twitter @iSPYETF or sign up for the FREE iSPYETF e-Newsletter to get actionable ETF trade ideas delivered for free.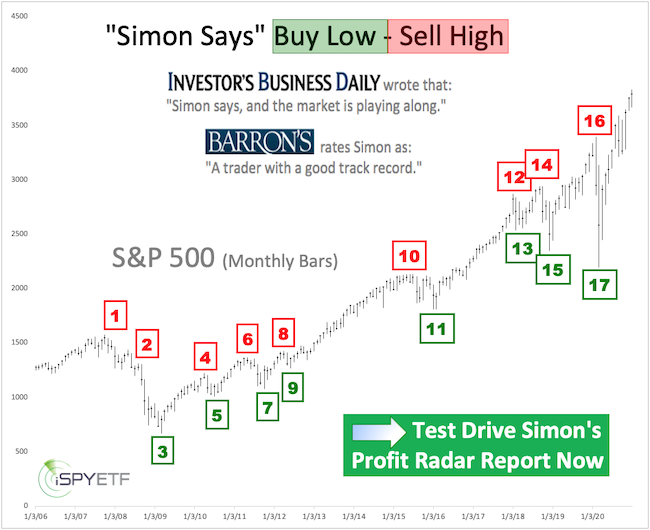 If you enjoy quality, hand-crafted research, sign up for the FREE iSPYETF e-newsletter & market outlook