Gold and silver have been stuck in their respective trading range for three months.
How long the yawning continues remains to be seen, but a slingshot move would be a welcome change of pace. What is a slingshot move? It's a powerful directional move preceded by a fakeout step.
The review below explains the potential slingshot setup:
The July 4 and July 7 Profit Radar Reports highlighted various conflicting indicators and decided that: "With both metals approaching our up side targets, we don't want to chase trade."
Barron's rates iSPYETF as "trader with a good track record" and Investor's Bussines Daily says "When Simon says, the market listens." Find out why Barron's and IBD endorse Simon Maierhofer's Profit Radar Report.
The chart below, published via the July 7 Profit Radar Report, shows two of the conflicting indicators for gold: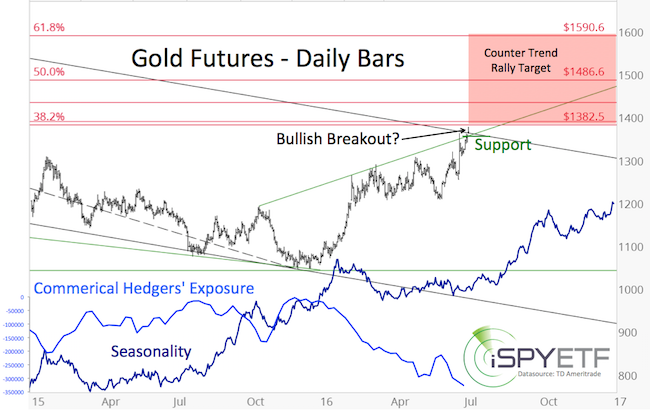 Investor Sentiment (commercial hedgers' exposure – light blue graph): Bearish for gold

Seasonality (dark blue graph): Bullish for gold
Silver essentially suffered the same conflict and was nearing a resistance clusters.
The July 4 Profit Radar Report showed the chart below along with the following commentary: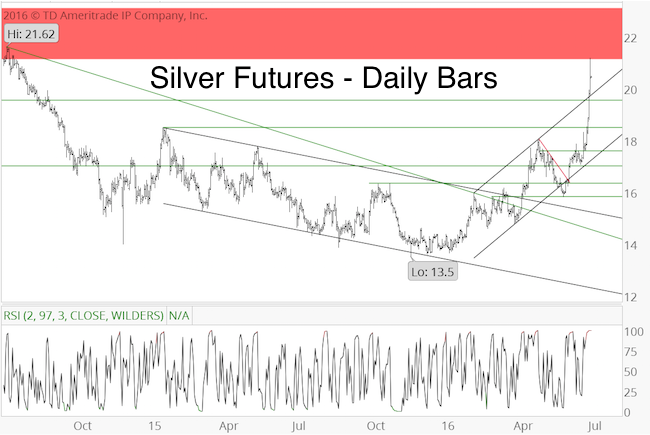 "Silver is overbought. In general, large spikes are followed by sideways trading or sizeable drops. Aggressive traders may find success shorting silver (corresponding ETF: ZSL)."
In hindsight it becomes obvious that bullish seasonality and bearish sentiment cancelled each other out, resulting in the three-month stalemate.
If you enjoy quality, hand-crafted research, >> Sign up for the FREE iSPYETF Newsletter
Some sort of a trading range is usually the result when our indicators are in conflict, that's why we generally don't trade during such periods (the Profit Radar Report's last precious metals recommendation was to buy gold at 1,088 in November 2015).
The Slingshot Move
As the above charts show, gold and silver reached the low end of our up side targets. Gold and silver have been stair-stepping lower ever since (see updated charts below).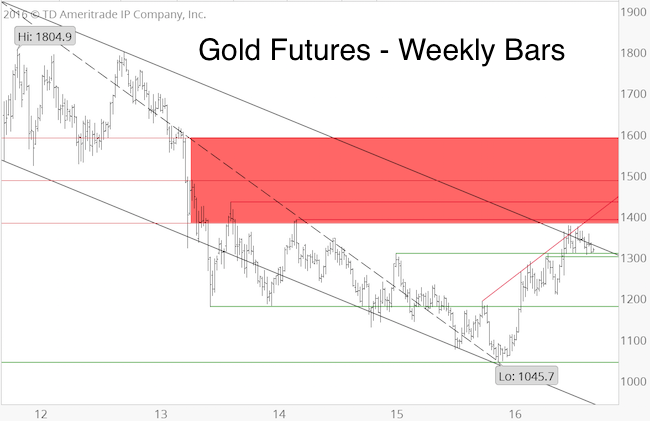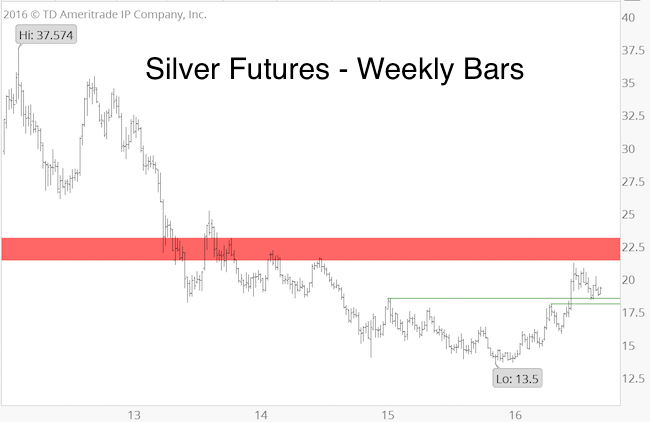 Our intention was to short gold and silver in their respective resistance areas. Unfortunately they never fully got there.
New Bear Market Lows?
The question now is whether the top is in or not?
The best-case scenario would be a swift rally into the red resistance zone (above 1,380 for gold, above 21.2 for silver). We'd consider this rally the slingshot move (fakeout rally before sizeable decline).
The rally to new recovery highs would get bulls excited just before a considerable down side reversal (and quite possibly a drop below $1,000/oz for gold).
However, the best-case scenario may not happen. Gold and silver as good as touched the bottom of our up side targets, which may be enough. A sizeable top may already be in place (watch green support areas).
The strategy for precious metals is to sell the bounces. Now we just need to figure out how big the bounces will be.
Continuous updates for gold and silver are available via the Profit Radar Report.
Simon Maierhofer is the founder of iSPYETF and the publisher of the Profit Radar Report. Barron's rated iSPYETF as a "trader with a good track record" (click here for Barron's profile of the Profit Radar Report). The Profit Radar Report presents complex market analysis (S&P 500, Dow Jones, gold, silver, euro and bonds) in an easy format. Technical analysis, sentiment indicators, seasonal patterns and common sense are all wrapped up into two or more easy-to-read weekly updates. All Profit Radar Report recommendations resulted in a 59.51% net gain in 2013, 17.59% in 2014, and 24.52% in 2015.
Follow Simon on Twitter @ iSPYETF or sign up for the FREE iSPYETF Newsletter to get actionable ETF trade ideas delivered for free.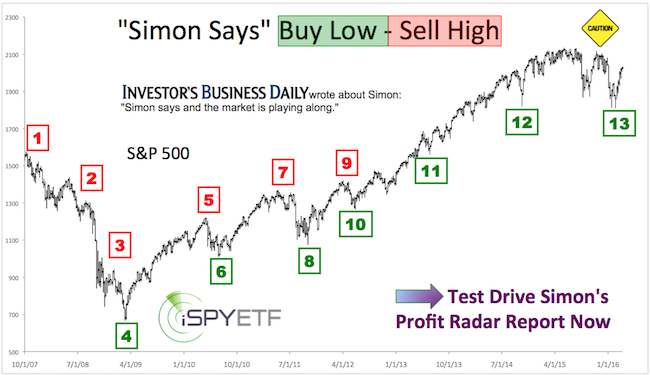 If you enjoy quality, hand-crafted research, >> Sign up for the FREE iSPYETF Newsletter