"Higher Oil Prices Threaten Global Economy" – AP, March 10, 2011
This may be a headline of the distant past, but it was written at a time when crude oil traded just above $100/barrel. In fact, on March 10, 2011 crude oil ended the day at 102.58.
Oil above 100 usually captures the media's attention one way or another. Some outlets consider it a sign of a strengthening economy, others a stone around the neck of car-driving consumers.
Interestingly, this time around, 105 oil hasn't tickled the media's reporting need yet.
Regardless of the media, there's a worthwhile correlation between the S&P 500 and crude oil, and technical analysis suggests that crude oil prices are at an interesting junction.
The chart below plots the S&P 500 against crude oil prices and shows almost everything important there's to know about oil right now: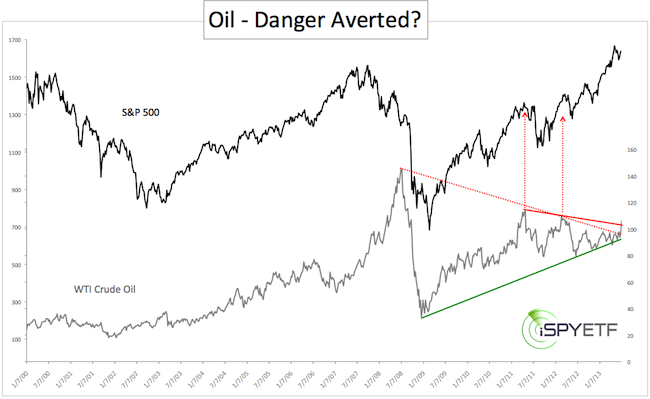 Crude oil prices just climbed above red trend line resistance (now support) at 104.

Crude oil prices are also trading above longer-term dashed red trend line resistance at 96.

Crude oil at 110 – 115 has coincided with stock corrections in 2011 and 2012.

Important green trend line support is at 91.
Crude oil cycles don't really support higher prices right now, but the chart shows very little bearish energy.
As long as crude oil remains above the solid red trend line, prices may reach the 110 - 115 danger zone that led to corrections in 2011 and 2012.
The dashed red and green trend lines will serve as important support in the weeks/months to come.
What About Oil and the Economy?
Oil is the only asset that keeps the Federal Reserve 'honest.' Past rounds of QE buoyed all asset classes. With the exception of oil, that's exactly what Mr. Bernanke wants.
However, rising oil prices – unlike any other asset – are bad for the economy and may force the Fed to taper QE.
Oil is trading above various support levels and may continue higher, but oil's quiet ascent has escaped the media's attention. There's currently no public pressure on Bernanke to curtail evil oil from pick pocketing American saving accounts.