On Thursday the Dow Jones Industrial Average (DJI) and the Dow Jones Transportation Average (DJT) reached an all-time high. According to Dow Theory, that's a bullish confirmation.
Dow Theory has been around so long that it's considered antiquated and outdated by many. Its roots go back as far as 1889 and start with a man named Charles Dow.
Dow started his career as an investigative reporter focused on business and finance. In 1885 Dow became a member of the New York Stock Exchange. In 1889 Dow began publishing a newspaper called the Wall Street Journal.
From 1899 to 1902 Dow published a series of editorials in his Wall Street Journal. Many asked him to compose a book made up of his editorials, but he didn't. It was left up to others to continue Dow's Theory and legacy.
Dow Theory students such as William Hamilton, Robert Rhea, George Schaefer, and Richard Russell kept the Dow Theory alive after Dow's death. They were able to call the Great Depression market bottom in 1932, the turn to the downside in 1937, the 1949 market bottom and the 1966 top.
There are six basic tenets to the Dow Theory. One of which is that the averages must confirm each other. A bull market in the Dow Jones Industrial Average (NYSEArca: DIA) for example, could not occur unless the Dow Jones Transportation Average (NYSEArca: IYT) rallies as well.
Why? Only produced goods that are shipped to and paid for by the consumer confirm a strong economy (production without delivery would only inflate inventory).
Dow Theory was born in a free market and proved its worth many times in decades past. However, the Dow Theory track record in a Fed manipulated market is less than stellar.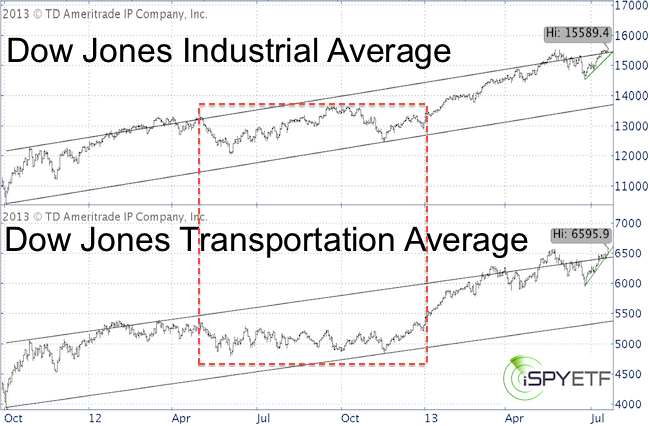 For most of 2012 the Dow Jones was 'doomed' by a bearish non-confirmation as the Transports failed to confirm the Dow's new high (dashed red box).
It wasn't until March 2013 when both averages (industrials and transport) rallied to all-time highs, confirming the rally.
There have been some ups and downs since March, but the DJI and DJT both recorded all-time highs yesterday (July 18, 2013). This means that goods are manufactured and shipped.
Well, that's what it used to mean anyway. Today it merely means that there's enough liquidity to buoy different industry sectors.
This is a bullish development, although I'm not buying into the rationale that the stock market is up because the economy is healthy and that the economy is healthy because the transportation sector is confirming the industrial sector.
As the chart above shows, both averages are currently above their respective longer-term parallel channel. A move below the channel wouldn't suffocate the bullish undertones, but as long as prices remain above, both indexes are 'safe.'
>> Sign up for the FREE ETF NEWSLETTER and get the ETF SPY delivered to you.