The Dow Jones Transportation Average (DJT) has been on fire, since late 2012.
A V-shaped correction, and a prolonged period of sideways trading interrupted the parabolic up trend and there's been no net gain since September 2014.
Trading action since the November 28 all-time high has been contained by a parallel channel, that looks like a flag.
In fact, the DJT may have formed a bullish flag formation.
A bull flag is described as a consolidation period that interrupts a sharp, almost vertical rally. The consolidation range is defined by a parallel channel with a slant to the down side, and tends to separate two halves of a steep rally.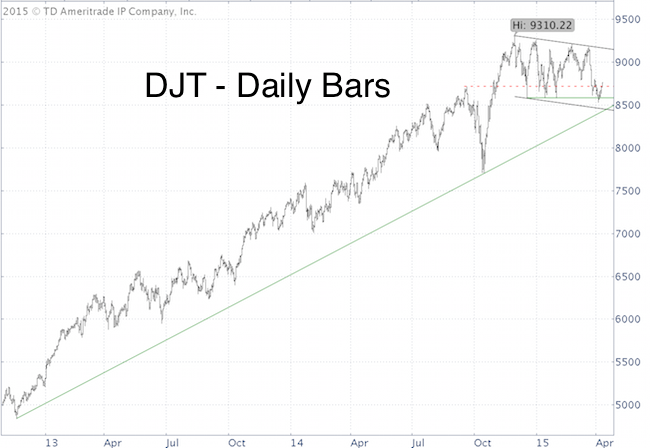 A break above the upper boundary (around 9,150) would be the first step of a bullish breakout, with a measured up side target around 10,000.
Buying against support (around 8,500) is a low-risk buying opportunity to get in on the ground floor. It's low-risk because the nearby support level provides a clear point of ruin (stop-loss).
Never Miss a Beat! >> Sign up for the FREE iSPYETF e-Newsletter
A break below 8,450 would void the bull flag and allow for much lower prices.
I doubt there's enough buying power to lift the DJT to 10,000, but trade around 8,500 (or breakout above 9,150) offers some low-risk setups.
The iShares Transportation Average ETF (NYSEArca: IYT) is the most widely traded transportation sector ETF.
Simon Maierhofer is the publisher of the Profit Radar Report. The Profit Radar Report presents complex market analysis (S&P 500, Dow Jones, gold, silver, euro and bonds) in an easy format. Technical analysis, sentiment indicators, seasonal patterns and common sense are all wrapped up into two or more easy-to-read weekly updates. All Profit Radar Report recommendations resulted in a 59.51% net gain in 2013 and 17.59% in 2014.
Follow Simon on Twitter @ iSPYETF or sign up for the FREE iSPYETF Newsletter to get actionable ETF trade ideas delivered for free.