Gold is trading 36% below its 2009 low as every bounce in the last couple of years has turned into a trap.
Is it finally safe to buy gold and gold ETFs like the SPDR Gold Shares (NYSEArca: GLD) and iShares Gold Trust (NYSEArca: IAU)?
That's a loaded question. The short answer is we're getting close (IMHO).
Technical Picture Explained
The gold chart (blue dots) below shows that gold prices have respected technical support/resistance levels along with a few other technical nuggets.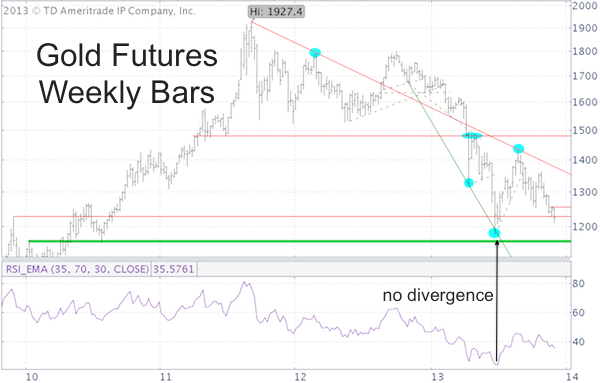 The early 2013 Profit Radar Reports highlighted support in the 1,250 range. In fact, when gold was still trading at $1,500 and above, the Profit Radar Report initially expected a major buying opportunity at 1,250 +/-.
By the time gold was closing in on the June low, we realized that there was no obvious bullish RSI divergence at the low (see chart).
Due to support provided by the descending green trend line, the Profit Radar Report still expected a bounce, but didn't consider it a major buying opportunity.
Ever since, the bearish message of RSI has loomed over every rally and cautioned that new lows are next.
Next support is at 1,165 – 1,155. That's where we will consider buying gold.
Keep in mind that a consideration is different from a 'we buy no matter what' approach.
If trade drops towards 1,165, price action must confirm a three-pronged trigger (three different criteria). If it passed the test, it's safe (at least as safe as possible) to buy gold and gold ETFs like GLD and IAU.
The way towards 1,165 – assuming we'll get there – may not be easy, however.
There are a lot of cross currents over the near-term.
A short-term gold outlook, along with guiding price 'handrails' are provided here:
Simon Maierhofer is the publisher of the Profit Radar Report. The Profit Radar Report presents complex market analysis (stocks, gold, silver, euro and bonds) in an easy format. Technical analysis, sentiment indicators, seasonal patterns and common sense are all wrapped up into two or more easy-to-read weekly updates. We are accountable for our work, because we track every recommendation (see track record below).
Follow Simon on Twitter @ iSPYETF or sign up for the FREE iSPYETF Newsletter to get actionable ETF trade ideas delivered for free.