Real gold is beautiful, but the gold chart looks outright ugly.
Ugly charts often coincide with the 'puke point,' the point where investors capitulate, throw in the towel and sell their positions in disgust.
Unwittingly – and very much to their frustration – prices tend to roar higher shortly after they are bullied out of their position. Are gold prices at that point?
When we last examined that very question on December 10, gold closed at $1,260 an ounce and we concluded that: "The absence of obvious mass surrender suggests that a lasting gold bottom has yet to be seen."
Does the 70-point (5.5%) drop since qualify as mass surrender or throw in the towel kind of action?
The chart below plots the price of gold against the trading volume of the two most popular gold ETFs: SPDR Gold Shares (NYSEArca: GLD) and iShares Gold Trust (NYSEArca: IAU).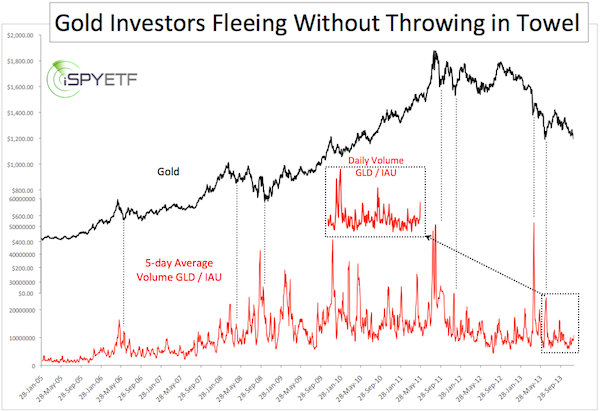 The dotted grey lines show that a significant spike in trading volume usually accompanies tradable lows for gold, SPDR Gold Shares and iShares Gold Trust.
Surprisingly that's not currently the case. GLD and IAU investors still haven't panicked. 'No panic, no major low' goes the rule of thumb.
The above gold chart suggests further selling is still needed, but we should never trust any one single indicator.
Here's what technicals say about the prospect for a market bottom.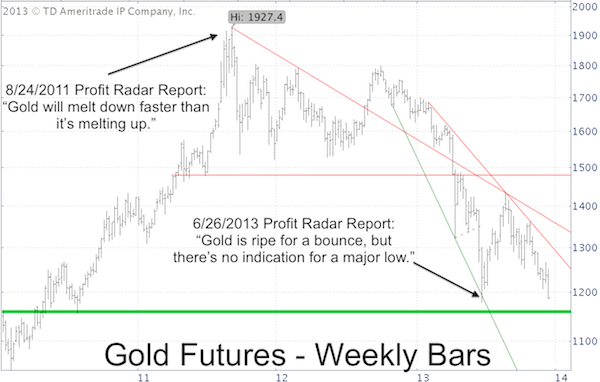 The June low at 1,178 did not have the ingredients usually seen at a lasting low. The June low lacked a bullish RSI divergence. The June 30 Profit Radar Report stated that:
"After days of intense selling, gold is ripe for a bounce, but aside from finding support at the green trend line, there's no indication for a lasting low. A drop to about 1,155 with a bullish RSI divergence on the daily chart would be a tentative buy signal."
Since the June low, the Profit Radar Report recommended a few brief long trades for the SPDR Gold Shares and iShares Silver Trust (NYSEArca: SLV).
However, the expectation of eventual new lows loomed over every trade. Therefore we were quick to take profits and closed our trades with small gains of 8.73%, 5.58% and 3.25%.
The target of 1,155 for gold remains valid. Whether we will actually recommend to buy gold around 1,155 depends on a number of factors, which we can only evaluate once (and if) we get there.
Simon Maierhofer is the publisher of the Profit Radar Report. The Profit Radar Report presents complex market analysis (stocks, gold, silver, euro and bonds) in an easy format. Technical analysis, sentiment indicators, seasonal patterns and common sense are all wrapped up into two or more easy-to-read weekly updates. We are accountable for our work, because we track every recommendation (see track record below).
Follow Simon on Twitter @ iSPYETF or sign up for the FREE iSPYETF Newsletter to get actionable ETF trade ideas delivered for free.