The Energy Select Sector SPDR ETF (NYSEArca: XLE) lost as much as 28.57% from June to December. Every attempt to go bottom fishing was greeted by further losses.
I was nearly tempted to fish for an oil low in late November, when I wrote that: "Oil failed to make a new low this week, but a marginal new low would likely come with a bullish RSI divergence and the potential for a bottom."
Two days later (November 28) oil lost 10% in one day and I shared this updated outlook with Profit Radar Report subscribers: "Friday's 10.4% loss was more than just a 'marginal new low.' RSI also confirmed the new price lows. Obviously this decline is stretched, and a rally can develop at any given time, but at this point it's better to wait for a move back above resistance. The next real support/resistance level doesn't emerge until around 50, but it appears ambitious to expect oil to drop that far."
Turns out the $50 target wasn't all that ambitious after all (actual low for crude oil futures was 53.60). It appears like oil will test the 50 level next year. For now, the Energy Select Sector SPDR ETF (NYSEArca: XLE) chart looks more promising than oil.
The December 10 Profit Radar Report stated that: "XLE is near parallel trend channel support and may bounce, but with lacking evidence of a more permanent low in oil prices, going long XLE is risky. A drop below trend channel support followed by a close above would offer a low-risk buy signal."
The weekly XLE chart below includes the trend channel (purple lines) along with helpful prior support/resistance levels (dashed gray lines).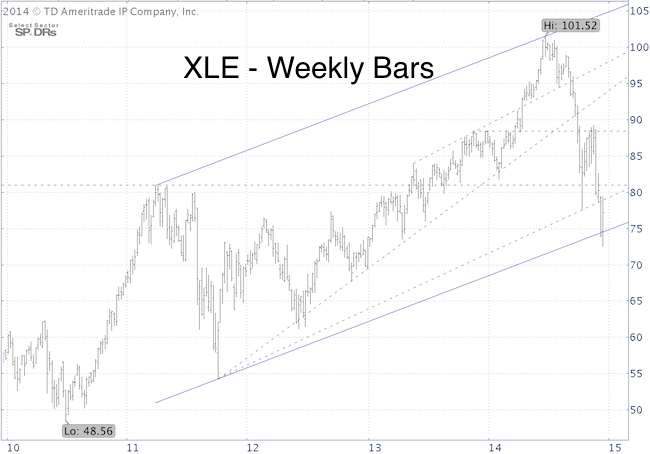 XLE dipped below the trend channel last week and closed back above it on Wednesday. This is the first encouraging sign for XLE.
Yesterday's Profit Radar Report spells out what's needed next for this fledgling bounce to gain momentum.
Simon Maierhofer is the publisher of the Profit Radar Report. The Profit Radar Report presents complex market analysis (S&P 500, Dow Jones, gold, silver, euro and bonds) in an easy format. Technical analysis, sentiment indicators, seasonal patterns and common sense are all wrapped up into two or more easy-to-read weekly updates. All Profit Radar Report recommendations resulted in a 59.51% net gain in 2013.
Follow Simon on Twitter @ iSPYETF to get actionable ETF trade ideas delivered for free.