A few days ago, a reporter from Investor's Business Daily asked me to write about an international investment opportunity. I focused predominantly on the action of the S&P 500, Nasdaq-100, Dow Jones, gold, silver, euro, and 30-year Treasuries, so it took a bit of research to come up with an international trade set up.
The opportunity that stood out most is a highly contrarian one and won't win you a popularity contest at your next cocktail party: China.
Barron's July 2, front cover categorized the Chinese economy and stock market as a "falling star."
Printed in bold black font on the same front cover is this warning: "The Chinese economy is slowing and is likely to slow a lot more. Get ready for a hard landing."
The Contrarian Opportunity
Contrarian investors know that forecasts of "hard landings" often turn into some of the best buying opportunities (remember how everyone felt about U.S. stocks just a few months ago). Contrarian investing means going against the crowd and requires nerves of steel and often patience, but even technical indicators suggest that a buying opportunity in China is approaching.
The Shanghai Composite Index is only about 15% above its 2008 low (@ 1,679) and currently sits atop important support, right around 2000. Unfortunately, U.S. investors can't invest directly in the Shanghai Composite Index, but don't worry, there's an ETF for that.
The iShares FTSE China 25 Index Fund ETF (FXI) provides exposure to the 25 largest and most liquid Chinese companies. FXI seems to be forming a giant 5-year triangle with well-defined support and resistance.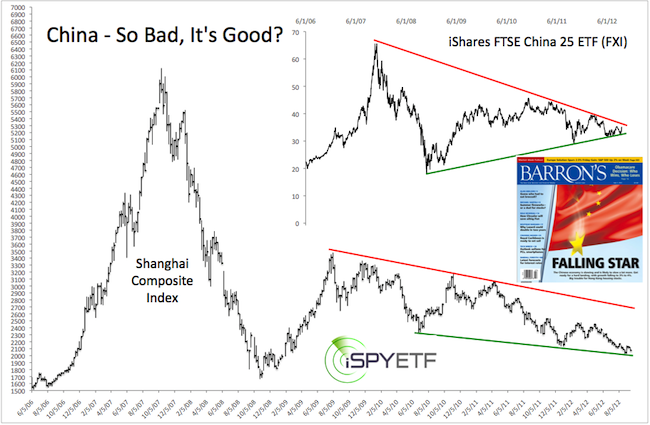 How to Trade FXI
A break out in Q4 2012 is quite possible. Key support is currently at 31.70 and rising. Key resistance is currently at 36.30 and falling. The key support level lets you know exactly if and when you're wrong (a break below 31.70) and makes this trade attractive from a risk management perspective.
There are two ways to trade this constellation:
1) Buy on weakness and as close to 31.50 as possible with a stop-loss just below 31.50 (more aggressive option).
2) Buy once prices break above 36.50 with a stop-loss just below 36.50 (more conservative option).
Hopefully, by the time the next cocktail party rolls around it'll be more fashionable to talk about Chinese investments and how you got in before anyone else did.