Bad breath stinks (literally), so does bad breadth.
The stock market's had bad breadth since late April, and gains are wilting.
One breadth measure I've been watching is the percentage of (NYSE) stocks above their 50-day SMA.
The May 31 Profit Radar Report showed that the percentage of stocks above their 50-day SMA did not confirm the latest S&P 500 highs and warned that:
"Negative divergences like this tend to draw stocks lower. This doesn't have to happen immediately, but this particular divergence has lasted longer than any other in the last years, and is likely to turn into a drag eventually. "
The chart below shows when and how the market started to tire (red line).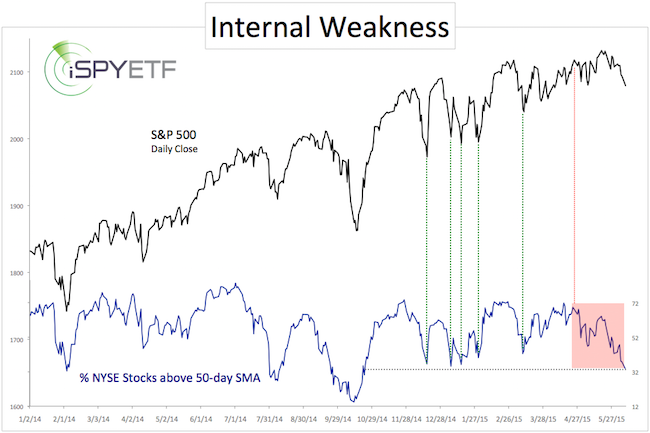 Corrections don't always happen immediately, but 6 of the last 8 corrections (since 2014) were preceded by such a divergence.
If you enjoy quality, hand-crafted research, >> Sign up for the FREE iSPYETF Newsletter
The % of stocks below their 50-day SMA has dropped to the lowest level of 2015, which makes for an interesting twist.
As the green lines show, when too many stocks drop below their 50-day SMA, the S&P 500 rallied every single time in 2015.
This cautions against turning too bearish. How stocks react around current levels may give an indication if we're still in the 'one step up, one step down' market, or if a deeper correction will develop.
Simon Maierhofer is the publisher of the Profit Radar Report. The Profit Radar Report presents complex market analysis (S&P 500, Dow Jones, gold, silver, euro and bonds) in an easy format. Technical analysis, sentiment indicators, seasonal patterns and common sense are all wrapped up into two or more easy-to-read weekly updates. All Profit Radar Report recommendations resulted in a 59.51% net gain in 2013 and 17.59% in 2014.
Follow Simon on Twitter @ iSPYETF or sign up for the FREE iSPYETF Newsletter to get actionable ETF trade ideas delivered for free.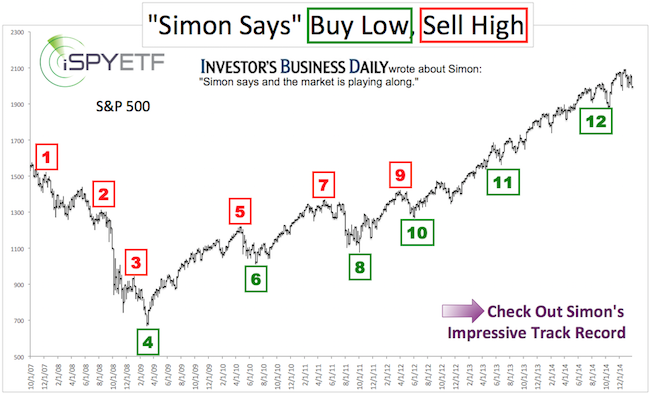 If you enjoy quality, hand-crafted research, >> Sign up for the FREE iSPYETF Newsletter